All-rounders are coming on strong!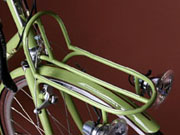 [UPDATE 4/06: It looks like the commuter bike situation is improving in the US. Specialized has updated its Globe. And Koga-Miyatas are coming to town. Here's a commuter info site.]

Fresh young companies are taking the hint from Riv, Breezer and the savvy Euros and Japanese, and are creating useful and elegant new (old) bikes for Americans.

Check out the integrated rack from Vanilla. Other US outfits are coming on strong, too, with bikes that are both gorgeous and versatile, such as Kogswell and Gaansari. A.N.T. on the East Coast is ranging even wider in reviving great traditions with a full line of rugged bikes, baskets, racks, chainguards and fenders galore! Man, what a great trend these new guys represent! People are really starting to value a bike that you can do anything with.

Riv is still going strong on the higher-quality end while emphasizing a "build it up yourself" approach to accessorizing. It seems like some of the younger outfits are doing more of the completing in-house, designing full-featured bikes from the ground up.

For the budget-minded with more of a purely citybike need, Breezer really was the one that started bringing full-featured Eurostyle to the U.S. Is it wet or dark or do you need to haul some groceries? No worries! The Uptown is ready for action right out of the box!

Versatile bikes have always been respected and popular in Europe and elsewhere. Most are mass produced with common parts-groups at low costs---in the Euro market, anyway. Quite a few, though, are on the high-quality side. Here are some links to some of the sweeter and more integrated versions of overseas offerings today...

The new movement that I'm emphasizing includes more of a distance-riding aspect, but the citybike concept is part of it, too. The best Euro citybikes... seem to be the Miyata-Koga Gran Tour and the Batavus Best Break.
You can't buy either of them in the US. Bummer. But it sure is cool looking at them. Check out Miyata and Batavus to see these fine bikes which no one here can buy. The Gran Tour has integrated full-suspension, fenders, lighting, chainguard, rack, pump, the works....and style. The Best Break has some suspension, adjustable stem angle, everything else and then some...and style.

*Classy Euro versions of the All-rounder... Sadly, also not available here. But they're something to look forward to, as we in the U.S. finally start grasping more of what cycling can offer. (I'd think that even the Web alone would start a clamor for Eurostyle bikes here in the U.S.---when you see what they can easily get, it makes you want it here!)Patria's whole line, but especially Potsdam, Ranger and Tramp. Wanderer's Drei is classy.


*Classic-yet-modern bikes for "hard riders" who aren't racers: Thorn bikes from the UK. Nice offerings for randonneur events, which are increasingly popular here in the States.

Giant also sells a full-featured affordable citybike, but in general I suspect that their approach (and other mass-produced contempo-designs like theirs) tends too much toward the mt-bike profile of extreme stiffness (originally designed for extreme terrain, airtime, and other seldom-seen situations) with cushioning measures added to soften the overly stiff frame. A challenge started by Grant at Rivendell for "country bikes" says to design the frame for comfort first then add wheels/tires to do further shock-absorption and results in a bike that needs no suspension parts for typical dirt road or moderate trail riding. These could serve to direct versatile bikes away from a harsh mt-bike platform. The Hampstens and friends at Cycles Tournesol are already taking up the "country bike" cause in earnest.

Decades ago there was a major fruition of bike technology and style in France with the long-development of full-featured bikes from small, elite builders called 'constructeurs.' A few French makers still build such bikes. However, the Japanese have enthusiastically taken up the French values in a recent movement of their own. There's one such builder now here in the U.S. Jitensha Studio offers a stunning array of classy and versatile features on his line of bikes, along with accessories for anyone else.

(Here are some inspiring pics of bikes made today by a fine Japanese reviver, TOEI. There's also a cool new movement called "pass hunting" with bikes made for it, especially by Alps.)

It looks like the French revival is taking off finally in the U.S. as well, with the "country bike" movement and others.

I predict that this movement will fully take off in the U.S., with the arrival this spring of the world's most beautiful bike book yet, "The Golden Age of the Handbuilt Bicycle" by Jan Heine---a celebration of the best of French versatile bike-building, from a period before the stripped-down brutalities of pro bike racing started dominating bike design for the general public. The obvious style and function of the versatile/integrated approach to cycling will finally be fully apparent to us---this book will be the clincher on the deal. It'll be available here and I'll be the rep to bookstores and bikeshops for it!

The main point is that a bike with clearances and dirt-road/trail stability doesn't have to be heavy, gangly, slow or harsh. In that "Golden Age" the French made fully-equipped bikes (lights, fenders, racks, tools, stand) as light as 17 lbs, and won long distance races with them, albeit with careful riding. One could be competitive with such a bike today in citizen racing, if so desired, and get a further edge by stripping it down (however the additions in many of these bikes weren't considered additions and were permanently installed with weight-saving fixtures). How much of the riding market races at the upper levels anyway? 1%? It would be far more comfy on century rides. And you can do so much more with it the rest of the time. What percent of the sport market could benefit from greater bike versatility? Nearly all!

I'm sure that someone will come up with a fully-integrated, full-featured carbon blobular bike. That will be great, too. But there will always been room for a gorgeous lugged steel frame. Steel is actually quite easily worked with, so a small shop can offer many special features in a bike whose looks warm the heart.

blog comments powered by

Disqus