Rare "Direct Access" Wine Tasting
March 27, 2009
I'm sorry I wasn't able to let you know ahead of time about the sweetest, swankiest event that went down last night. But at least I can give you a little report about it.

A very rare situation happened and I was able to understand a wee bit of the amazingness of it.

OK, nine French and Italian Estate Vintners got together in New York City a few days ago. That alone is uncommon, I think. These folks are usually busy on their farms. People come to them. They're from the select group of owner-operators who make great natural wines. Apparently many makers today use chemical additives.

A major wine importer, Kermit Lynch (http://www.kermitlynch.com) thought, Now that they're in the US is there anything further we can do, given such an unusual confluence? He reps about 100 high quality wine-makers, these nine among them.

So, Matthew Cain, the KL rep who I gathered was chaperoning this unusual gathering, told me that he thought: Let's see if a couple of my fave shops would like to have these folks stop by, to directly show the wines that they make. It was a chance not likely to come up again. So he set up 2 special tastings for them. One in Baltimore…and one in Ann Arbor, courtesy of my friends Tommy and Matt's Morgan & York Fine Foods (http://morganandyork.com).

Tommy gave me the high sign that something special was going down so I quickly drove the hour to the event.

Another neat thing was that the event was being hosted by friends of ours from way-back: Frances "Duffy" Chapman, Martha's housemate from her first year of college. He and his wife Wendy had recently finished renovating their grand historic house in the classic Burns Park area of town.

The event was also a fundraiser for Safehouse, a local charity.

A trifecta of note, in short.

The large house was beginning to fill when I arrived. Tommy, Matt and crew were making everyone welcome and slicing fancy-yet-localstyle charcuterie and cheeses.

What a great "date" event it was! Great food-treats and wines and comfy chairs and friendly folks to chat with...or you could just hunker down with a friend and compare notes...or just go on your own and float and ruminate...

M&Y promotes the local artisan way even when it's from across the ocean. Homestyle folks everywhere have a lot in common, after all. The people side needs to stick together, creating the good side of a global reality.

I noticed calm individuals standing here and there next to small arrays of wine bottles. I walked up to a young man on the side of the house that wasn't buzzing yet and glanced at the short line of bottles in front of him, several said "Barolo." ...Be still my heart. I said Hi and could I have a taste. He gestured that he didn't understand. Ah, this WAS a special visit. We finally made each other to understand that he had been in the US a few days and was leaving tomorrow---it was his name on the bottles and, yes, I could try a Barolo, how about this 2004...

My first taste left me overwhelmed.

I'm not used to being able to try a Barolo. It was an amazing, rich and complex flavor. What a start! I felt instantly out of my depth. But I was game! I stepped away to get my bearings.

I'd only done one other wine tasting. It's easy to lose discernment and just start drinking wine. Here was a special chance to learn about wine that was brought here by the makers themselves, wine that I usually don't have access to.

I told myself before I arrived that I'd take one sip to get the flavor, then another to combine it with some jambone and cheese then move on, dumping my glass and clearing my palate before the next. No rushing, no 3 sips when 2 were enough.

I was fine with that part of my mission. What I wasn't prepared for was the complexity of the impact of my first taste.

Now the house was full and buzzing. (About 80 were attending, I heard.) People were chatting freely with each other, in this lovely at-home setting, asking about what they'd been discovering and what they thought.

After the Italian red, I tried some French. Oh, the mineralyness of the French was amazing! I do like French reds. But the Italians, too, in a different way. But what's the difference? I couldn't figure it out.

It seemed like we were a monolingual crowd. Perhaps the locals who spoke French or Italian were being polite and quiet. I felt a gap between me and the winemakers. They mostly had print media to help answer questions, but that was too much for me. I wanted to keep my mind quiet so I could taste the wine. It seemed like not being able to talk to the winemakers might actually make this easier. It did help, in a way. Actually, most were able to give indications about wine basics. I noticed on my own that some wines really bloomed with fragrance in the glass, some were juicier, others seemed deeper and denser.

Then I ran into the Bandol table. The winemaker there had a pile of crumbly, crystalline, geodey rocks on the counter. He enthusiastically tried to get me to follow what he was saying about terroir, the soil. I got his drift and it was an amazing thing. I didn't know that great vines often grow in rock. The roots go into the rock. Soil is, of course, eroded rock. But he seemed to be saying that it was the rock that was the main thing. I could taste the minerals in his wine. He was excited about that. He said he used no chemicals, nothing to stop fermentation---the terroir made the wine. And it got better with age. He has 1982 bottles that are only getting better. Apparently, additives can cut short the potential. His rose he says is the best in the world, Sure! Try it! I did... Ah, the fresh, fizzy minerals... And, look, the gentle weather comes in from the bay taking good care of my grapes, he said, showing me his photo book.

To recover, and digest the inputs I was receiving I went back to the charcuterie table where Tommy was working the knife on a big, salt-cured jambone. He confirmed the things I'd heard. --Yeah, it's about the rocks. He said there's a notion that evolution pushes vines to produce sweeter grapes in harsher conditions, so that birds will be more likely to come and carry the seeds to gentler areas. But the winemakers keep their roots right where they are. Some of the vineyards at this tasting are on land that has been producing wine for *2500 years*!

Matt Morgan was just back from hosting a 3-week wine-tour of France. He had lunch and wine at Lulu Peyraud's, a world famous 91-year-old country chef and winemaker. He said Jim Harrison tried to eat him. (Huh?) And that Harrison is now living in France.

I realized that I needed 2 tries of a wine (at least). A first tasting as an acquaintance and a second try to go further in to and confirm what I had noticed the first time.

I also realized that some wines, especially the tricky big red Barolo, probably needed a big, spicy, tomatoey Italian dinner to go with them and play off of. I couldn't imitate the necessary sit-down big meal gusto with just my little meat'n'cheese plate.

I kept being drawn to the French in the kitchen. But I also kept being pulled back to the Italian reds table in the sun room. A fan there said, "Yeah, some go for the terroir, I go for the grape." The thrifty Dolcetto bloomed like a flower in my glass. I thought, Here's a wine I can understand. But, darn, those Barolos---I looked sidelong at them---and gave another a try. They're tricky!

I noticed a couple M&Y employees trying to both work and enjoy themselves. They had sheets of scribbled notes. I overheard talk about a couple wines that were tight and needed a few years to open up.

One vintner had $80 bottles of white Bordeaux. Sadly, by that point my discernment was thoroughly overwhelmed. OK, I was partly lit. Cheeks a bit red. His wines were next to the Sancerres. I was lost again. Where's my shellfish? Then there were social distractions in the room. Kim Demick is a local fashion designer and sew-er (?) whose sheer, minimal, flattering work was on display on several ladies, including the lovely homeowner. Yes, the Bordeaux was tasty.

I was pleased in the end that some of my favorite wines were among the most affordable, at about $15 a bottle, so that I could possibly try one in earnest sometime. But, really, I didn't feel that I could go wrong with any of these. And I know that when I visit Tommy and Matt's shop that they---and Dan and Alex and Sean---always steer me true.

It was really something to try all these natural wines and to see the winemakers showing off the photo albums of their farms, gesturing to explain what's going on.

I wasn't disciplined enough to leave early. It was such a lovely treat to get out of our little cottage in the country. When I left, the winemakers were all gathered in the front yard, waiting for a cab, to have their own chance to go out and relax. I was invited along but, darn, my monolingualism seemed like a barrier. Years ago I learned enough French to follow bike racing news in Mirroir before any was available in the US. Maybe someday I'll learn enough to relate to the winemakers and food people. ---Before I go over for a bike and tenting tour.

What a special thing that these lifelong, familystyle winemakers had been brought together in one convivial place in our little neck of the woods.

Thanks, Matt and Matt and Tommy…and Frances and Wendy!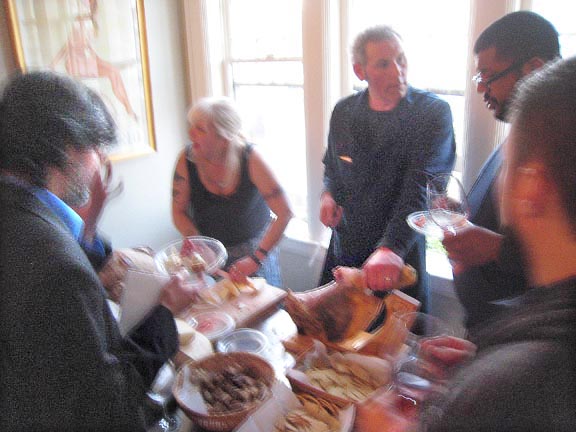 Tommy and friend gave freely of the charcuterie. "Nobody works for me. They work for themselves, with all of us."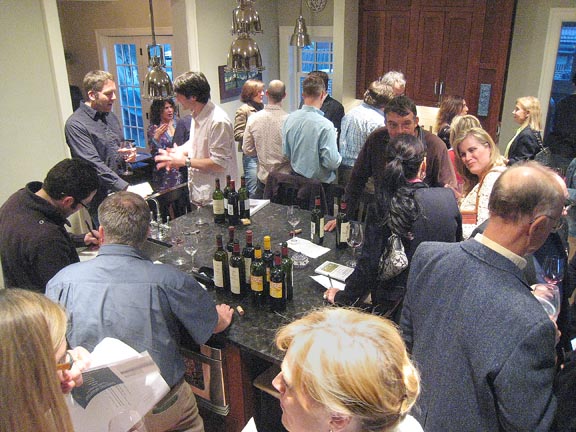 French reds rocked the kitchen.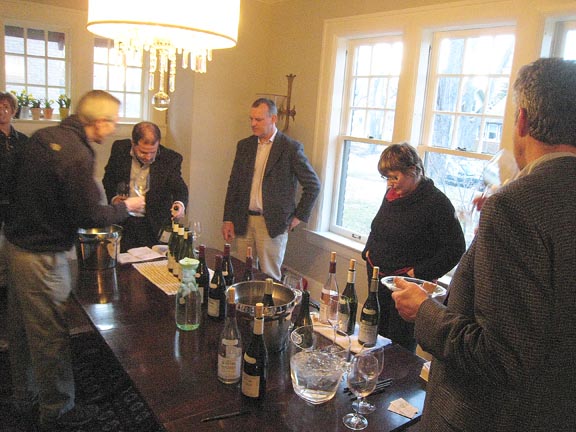 French whites ruled the sunny dining room.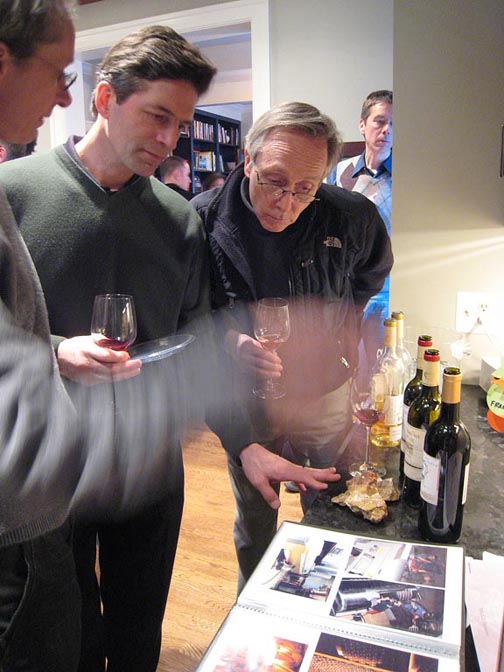 Domaine de Terrebrune -- the man with the Bandols. And the rocks.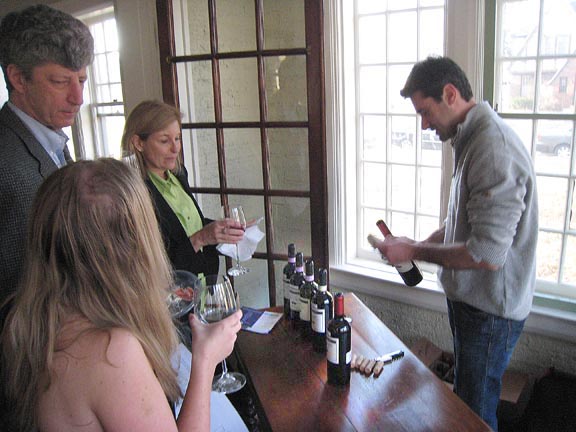 Guido Porro treated us to his Barolos and other lovely things.
Related Articles & Good Stuff
Views From a Wider Range of OYB