Team OYB: Rocks L.A.!
July 07, 2009
[6 of 10.]

MARIN

Where were we... oh, yeah... we left the Bay Area and visited a family friend who lives an hour north in ridgetop Inverness.

To get there we took the Marin Headlands route. It's a twisty, narrow road that climbs and drops all over the place. It's one of two ways to get over the Hill to the Marin coast. None of our passengers enjoyed the ride, but we had a restful evening and morning the Nor Cal ridgetop/beach City way.

Check out: *Cowgirl Creamery, http://cowgirlcreamery.com for world 1 prize-winning cheeses; *Bovine Bakery, http://yelp.com/biz/bovine-bakery-point-reyes-station.


HARRIS RANCH

Then we blasted south to LA on the I-5 down the center of the San Juaquin Valley, the breadbasket of the world (I think). (Read "East of Eden" and "The Octopus.")

Halfway down we stopped at Harris Ranch per my uncle's tip. It's about the only restaurant on the route and is a popular oasis for many. Harris is perhaps the most famous family cattle ranch in the state. They have all their cows plus thousands of acres of land right there at their oasis, restaurant, hotel freeway exit. They also raise race horses. They've been there a long time and they serve dry-aged beef, so it's good stuff, but we would've found a picnic in the fresh air under a shade tree to be just as nice. (We just hate the typical anti-value of nearly all restaurant meals.) Harris is probably best suited to adults. There are 3 dining rooms. A quiet, shady adult hangout; an evening dinner-room; and a generic family area. Consider the 1st two.

Check out: http://harrisranchbeef.com

Here's a Valley landscape just before The Grapevine Pass. ...Bringing water to L.A.





HOLLYWOOD

It was neat pulling into my uncle Kent's hillside Hollywood bungalow cul-de-sac six years after our first road trip there. I've visited since by airliner but the family hasn't.

They moved to the Hills in the 50's when it was an affordable hideaway place. It's still good for hiding out. I'd love to visit for a month or so again sometime and stay in their little apartment room with a balcony below their main house. Their house is simple but has so much to offer. Old fruit trees in the hillside yard. Squeeze an orange and grapefruit then slice an avocado onto the morning toast. Then I'd love to get to work producing a new bike book on a laptop next to the window. I bet I could get one completely done in a month on my own there in the Hills...

One of their neighbors lives in a little place down a narrow little brick walkway that winds away from the end of the cul-de-sac, overhung with fruit trees and flowers.

I especially used to like their bungalow before they got AC and before they fixed things up. Their little downstairs rooms were a little mildewy, in a good way. The morning breeze on the patio was your very own. You needed it.

Oh, those Hills...

It's funny how the uncles live. You couldn't get more opposite than Uncle Kent's and Uncle Tim's places. One is spotless the other is...spotted. Well, one is married; the other isn't... Yet they're both cool places...shelter...hideouts...





SO-CAL & LEGOLAND

We stayed a few days and visited Legoland down near San Diego.

It was sad for me to just drive past a couple beach-towns and marina areas where I had lived so long ago. But the rest of the family had no interest and we had no time. This is where I lived one summer when I set up my own journalism internship. As I report elsewhere, I worked for Jack Lewis and his empire of outdoor sports magazines. It was my first time in So Cal. What a summer! Afterward I came back to rescue my uncle Tim's sailboat and live on it on and off for a few years in Marina Del Rey and LA Harbor. I would've loved to visit those old haunts, too, and show them to the kids now that they're somewhat old enough to appreciate it. But they were mostly old enough to say Ugh! No!

I hadn't looked at the details of Legoland but it's meant for littler kids. Still, we had a nice time. The Sea Life aquarium is the best all-ages part of the place. (Resorts, restaurants, hotels... any of the hallmarks of American consumerism are basically just hilariously out of our price-range or sense of value. We missed out on the "$20 is the new $5" or "$100 is the new $20" phases of inflation. But of course, millions more of our cohorts are now in our boat today, too.)

I best enjoyed the ebb'n'flow of the big reef tank. I suppose I'm just a rhythm and motion freak. But I like the waving plants and fish being swept back'n'forth in any tidal zone. They had a good display.

We had a thrill walking through the underwater tubes, too.

On the way home from Legoland a blue crotch rocket motorcycle went whizzing past us, whitelining. A few minutes later we drove by him. His bike was in a ball of flame and the SUV he rear-ended was dented. We didn't see him, but people were running toward the shrubbery.

A few minutes later we saw a white Cadillac sideways in the freeway on the other side of the barrier. A white SUV was sideways next to it. A tall, thin Asian supermodel lady was standing in the road talking with a tall dreadlocked black fellow also dressed in white. And the 5 lanes of southbound I-5 were at a standstill for the next half hour of our drive. Yow.

Sights around town...




The new LA High School...




My favorite Legoland ride...




The ride of another kind of Future...




A couple little "Sea Life" videos:






CHINATOWN

The next day we visited Chinatown. I love the old part. But it's neatest at night, with the little shops and restaurants glowing in their alcoves.

We saw a hold-up in progress. Cops with guns drawn sent us scurrying around the corner.





A Tiny Traveler's Guide to LA's General Restaurant and Party Scene

Well, eating out is always one of the best things about LA. I have the bases that I always like to cover.

My aunt and uncle live a simple life. They eat out for dinner every other day and go hear live classical music every week or two. When you don't do much you can afford to go large.

We didn't cover all my bases this trip, but we did do very well.

Here are the bases, in case you ever visit LA and feel at a loss...

*Phillipe's sandwich joint on the Alameda traintracks in downtown LA. Home of the French Dip. 100 years old. Sawdust.

*Any of the great old delis: Canter's on Fairfax or Langer's downtown (that may have changed).

*Pink's hotdog stand, also on Fairfax (I think).

*Musso's on Hollywood Blvd. Miceli's just off the Blvd. Classic old Hollywood hangouts for straightforward dining pleasure, like Bogart, Faulkner and Hammett did it.

*Parking lot tacos (one stand near LaBrea and Melrose was rated one of the top LA restaurants) and ceviche.

*Check out the Silver Lake neighborhood along Sunset NW of downtown LA if you like casual, homespun hipster stuff.

*Check out the Los Feliz neighborhood near Vermont and Franklin for happenin' yet affordable fun, food 'n' socializing. The Dresden Room is still rockin' the 70's lounge action, 2 local movie-houses have cafes attached, the nice Skylights bookshop carries the full ULA PRESS line (!); the French cafe Figaro works nicely; the Wacko Soap Plant novelty toy shop is worth a lively hour.

*Heliotrope and Melrose is a tucked-away neighborhood of hangouts with max hipster bike shop, homemade icecream and a rockin' vegan restaurant and microbrew bar.

*Do NOT visit Venice Beach boardwalk after dark. Yow! Crackheads only.

*Cat & Fiddle is a nifty big old lively courtyard bar on Melrose near Cahuenga/LaBrea. Pig'n'Whistle is a neat old bar on Hollywood Blvd. Grumman's Egyptian is a BIG oldtime moviehouse.

OK, now you can take care of yourself in any of a 100 other directions to take an LA visit.





Our Particular Restaurant Action

My aunt and uncle took Martha and I to lunch at Providence on Melrose. Oh yeah! They took me last year, but Martha hadn't been. They try to get there for lunch a couple times a month and for dinner on Kent's birthday every year. It's one of two restaurants in the US to achieve the Michelin 2-star.

When we walked in Matthew, the maitre'd, and Donato, a co-owner, greeted us and said that our drinks were on the way. They both recognized me from last year. It's an impeccably sharp place. The co-owner chef Matthew Cimarusti also came out and chatted awhile.

We got to try molecular cooking and molecular mixology for the first time. We had a jellied mohito and gin&tonic. Various molecular foams were featured throughout the meal.

We got to try a slow-cooked Sous Vide egg for the first time. 140degF for 45 minutes... Runny but cooked and SO MUCH FLAVOR. Now, THAT was an eye-opener. I want to try it!

Most of us ordered dishes that included morels. But ya can't beat that.

A very tall father and son were sitting nearby and came over and chatted as well, then came back and offered us a half bottle of something white they had that they thought we might like with our fish. They said they sometimes come for lunch and stay for dinner. They had a dozen wine glasses on their table and an equal number of bottles at hand. Staffers would come out and bring them different wines to taste, so I don't think they were drinking whole bottles, not the whole time.

Swank, intimate, and what a treat.




Just before we left Hollywood we went for lunch at BLD, a nice French place on Fairfax, where we had an always-delightful platter of charcuterie---cold, cured meats and cheeses. If you get 6 each of meats and cheeses plus sipping drinks you can look forward to a delightful hour of gnoshing and consider it a meal for 4. Leslie Ann Warren and a snappy guy were having lunch next to us. She's a fave actress for me. We actually got eye contact---I think she even raised her eyebrows a bit---and I thought she seemed like "someone." But it took Martha to describe her movies for me to remember her name after we left. A tip o' the hat to Leslie Ann!




Leslie Ann, enter left! (What a nifty accidental shot!)





HOMEWARD BOUND

Kent's eyes, fingers and legs are going so he finally retired from the shooting sports that he enjoyed in such variety his whole life in LA. He bequeathed the last of his guns to me and my brothers.

The afternoon we left he got out a folding chair and set it up in the garage and guided me as we loaded maybe 400 pounds of guns and ammunition into the Cutlass. "Take it all," he said. Even his sweat-stained shooting Tilly hat (size 8 1/8) and mesh shooting vest and shell pouch.

I had no idea how we'd fit it all in, but we did.

Henry got a gift of his first gun from Kent and Jo...a lovely old Browning lever-action .22. Lucky boy! He about had a heart attack.

Then we drove off, butt scraping the pavement...

I hope we see the uncles again...

I'll send Kent a photo of Henry and I at the shooting range. And one of me shooting in his outfit (with a cleaned hat). I'll send him a range punchcard with a score of 25 out of 25...

Oh, here's one now... (And I did send it.)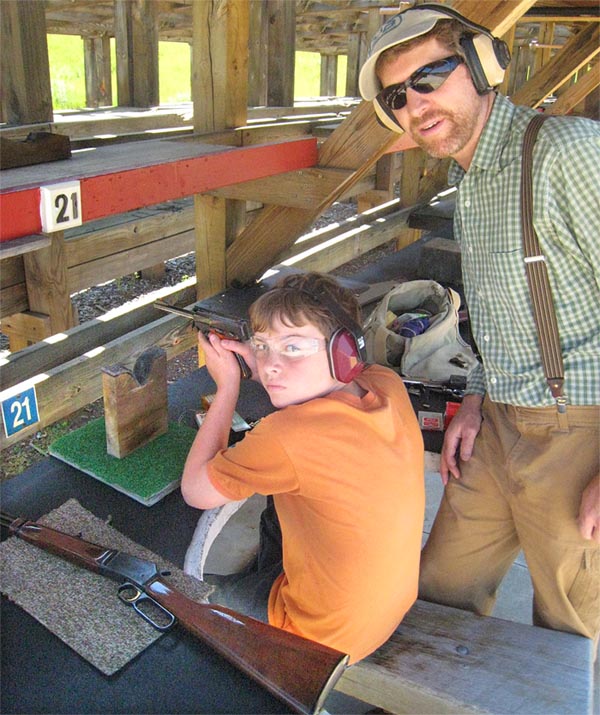 Henry and JP at the local shooting range.
Related Articles & Good Stuff
Views From a Wider Range of OYB