A Party of Two Houses
September 09, 2009
This is the story of a party at two houses. They're neighbors.

A few weeks ago I was invited to a house band party at old friend Kevin's house and it amazingly ended up that I had the time and freedom to go check it out.

When I arrived it turns out that it was a Two House Party. And the second house belonged to old friend Maris!

I hadn't seen either of these folks recently and hadn't visited their most recent homes and neither one knew that I knew the other. So when I showed up we were all in for a fun surprise.

Kevin and Maris are quite different people, but they're great pals, their worlds contrasting yet overlapping.

But here's the kicker. They each live in the SAME HOUSE. That is, they live in identical houses that were built side by side. Since they've each moved in they've each transformed their houses to match their worldviews.

So, the following pics are a little photo-story showing the differences and bonds between two once-identical houses.

I got the idea for this photo-shoot after the party had quieted down some. Earlier there were about 30 people wandering between the two places.

The party started out with Kevin's house hosting the Black Train roots rock band and a bonfire. (They played a rockin' version of John Denver's "Prisoners" among many splendidly diverse tunes.)

Maris's back yard had the seating and refreshments. She also hosted a wonderful summertime catered feast. In the end you'll see how the camps were divided up. People wandered between the two worlds, enjoying each in their own way...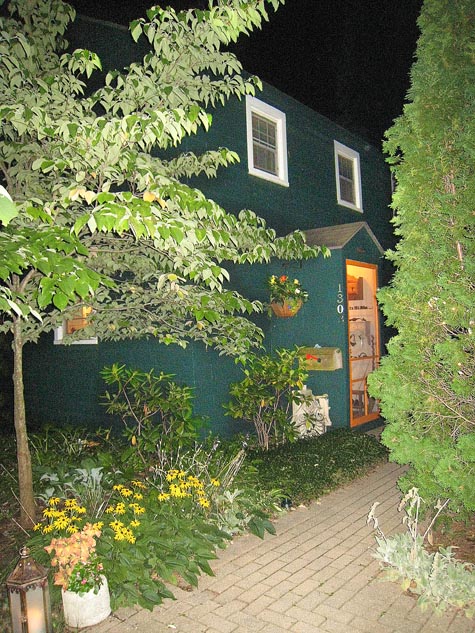 Maris's house. She's a realtor who appreciates running, roots music and organic farming.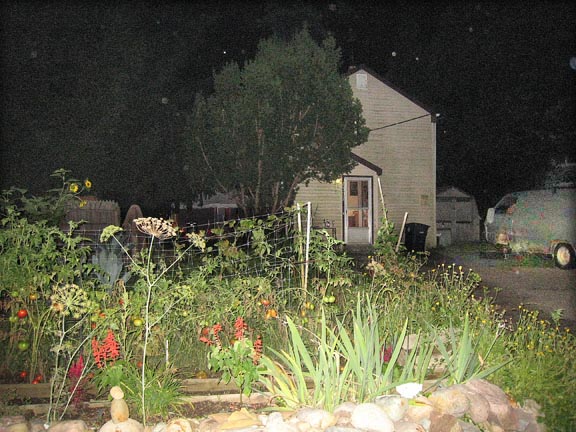 Kevin's house. He's a player of roots music, restorer of European motorcycles and maintainer of many organic farm tractors.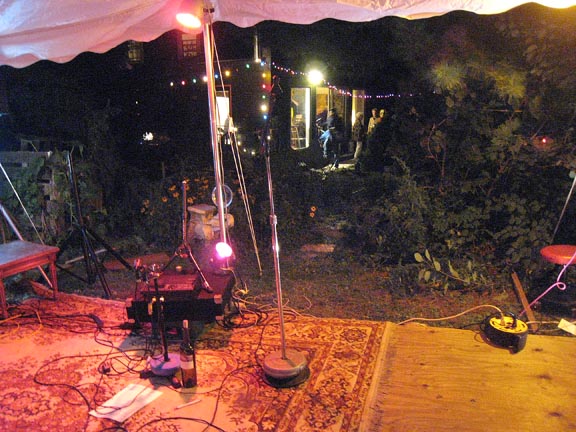 Gateway between worlds of harmonious contrast.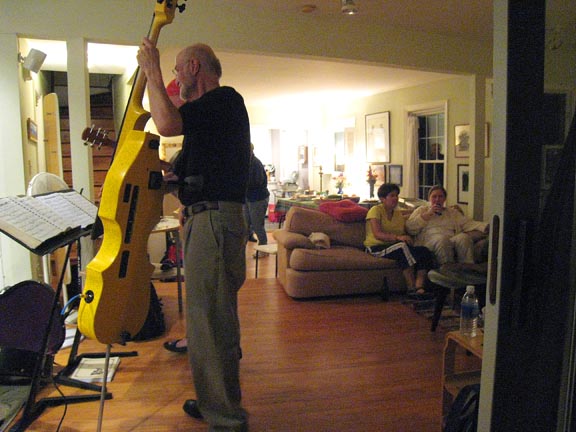 Jazz at Maris's house.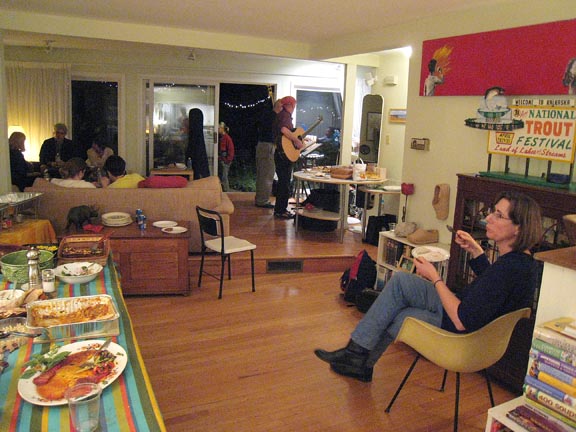 Living room.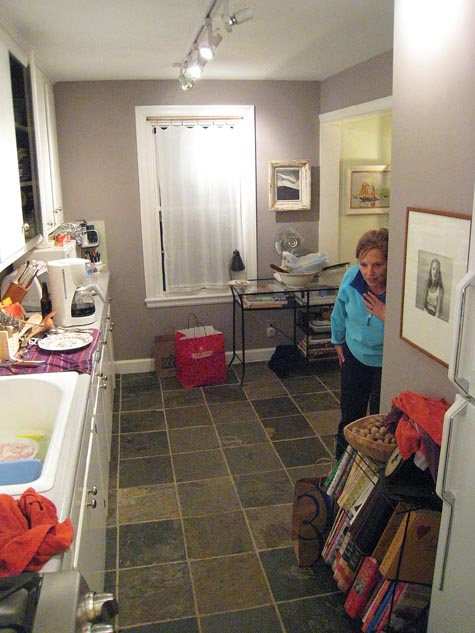 Kitchen.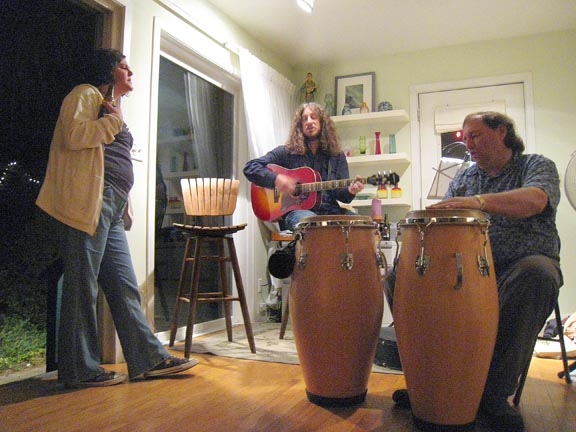 Jazzy nook.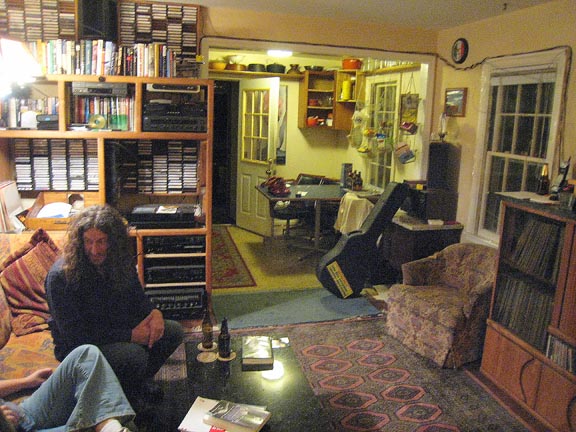 Kevin's house. ...A musician's livingroom (piano offscreen).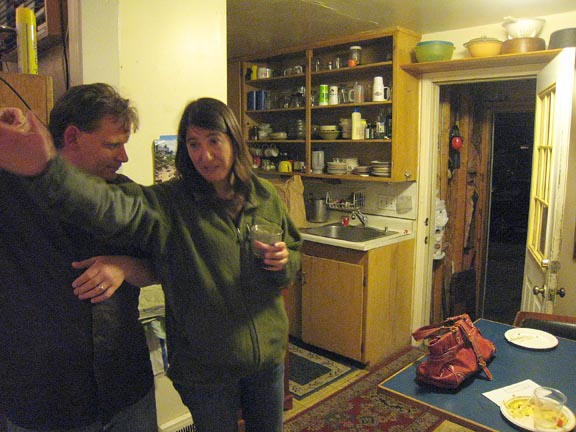 The kitchen.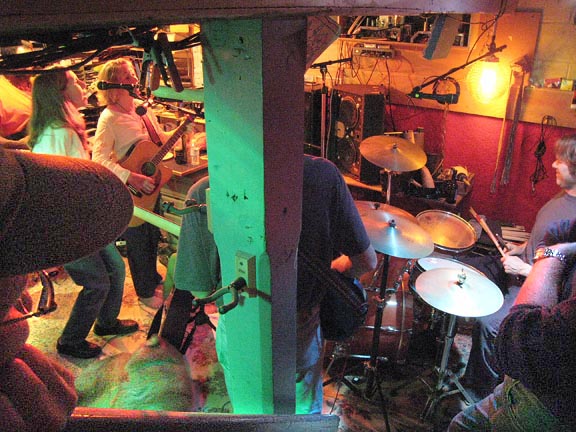 Rockin' the basement! There were, um, 8 musicians down there. And a big dog. And 6 fans on the stairs.
Related Articles & Good Stuff
Views From a Wider Range of OYB