A Few Spots to Visit in Chicago
March 25, 2010
We visited Chicago a few weeks ago and stayed with friends. They showed us a few neat places that were new to us that you might find to be of interest if you ever get over that way and if the description sounds good.

***

Highlights:

*Billy Goat Tavern -- Local newspaper reporters still go there for lunch. It's hidden beneath the streets far below and off to the side of Michigan Ave. downtown. Made famous by Belushi's "Cheezborger" bit in SNL. http://www.billygoattavern.com

*Shaw's Crab House -- A fancy downtown classic. The dining room has swanky wooden style. The Oyster Bar is straight out of a bygone era which has never really gone in the places that value quality. I'd heard of it but never been there. Went for lunch. http://www.shawscrabhouse.com

*Big Star -- Retro honky tonk in Wicker Park. Good bar food and bar times: fish tostadas, creative tacos, fancy bourbons and tequilas. They play records behind the bar. Classic country music. Gets crowded. Not big. Half dozen booths. Standing room for 75. I'd guess. They have a take-out window. http://chicago.metromix.com/bars-and-clubs/bar_review/inside-big-star/1604740/content

*The Violet Hour -- Ha...in googling Big Star (in the article link above) I see that the guy who opened that place also opened this place. Ya wouldn't know it. Across the street from Big Star is a door. That's all. No sign. Go in the door. If you're lucky, go in the bar. If you're not, leave your cell # and go do something else awhile til you're called back. This is a swanky, hush, velvety violet place with long drapes, tall ceiliings and chandeliers and considerable private space yet also room with a view for people watching. I googled around and saw that their "Juliet and Romeo" cocktail made 3rd on "America's 20 Best Cocktails" list at GQ (my fave Musso's in Hollywood got the best Martini). What's really neat is that once you're in you can't see any door or way out. You enter between some drapes. So you're IN. It's your space now. But it's not too big. They don't want it crowded either. We just peeked in then blew our callback chance. http://chicago.metromix.com/bars-and-clubs/bar_review/inside-big-star/1604740/content

*Julius Meinl -- true blue Austrian style cafe and quality cafe food -- the only thing it's missing is Vienna -- OK, and really tall ceilings and tall overstuffed chairs and magazine sticks and 24-7 hours and alcohol and an old staff...

*Lucky Platter -- rockin' breakfasts in Evanston and art on the walls

I mean, it's hard to go wrong in any metro area, especially Chicago, but if you get a chance to try these, go for it. I mean, cities don't need much help. It's the flyovers who are withering on the Walmart vine. That's who needs the hot-tip sharing.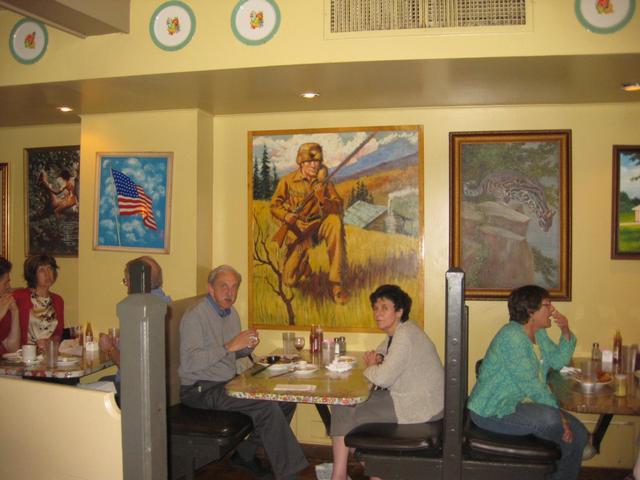 The Lucky Platter in Evanston has the best breakfasts and brunches going. And tasty margaritas. According to them it's "funkalicious post-Hippy eclectic world cuisine." Lots of art. Very tasty food.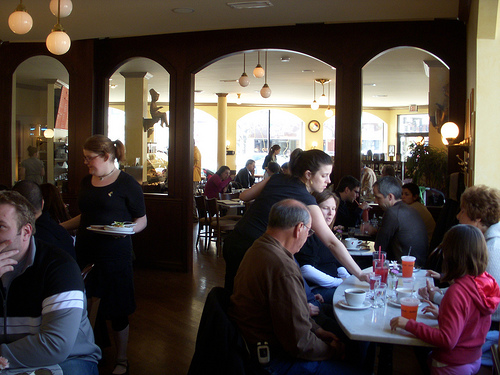 Julius Meinl Cafe. I visited Vienna for a month decades ago and spent many hours in a cafe a block from where I stayed. JM comes from there, but doesn't have the same swank. Still pretty darn nice, though. Real food, good stuff. Just no high ceilings or overstuffed chairs or alcohol or 24-7 hours or magazine sticks. (pic courtesy of the blog "tara and karina go out": http://taraandkarinagoout.com/cityguides/chicago/food-in-chicago/cafes-and-sweet-treats-in-chicago/julius-meinl/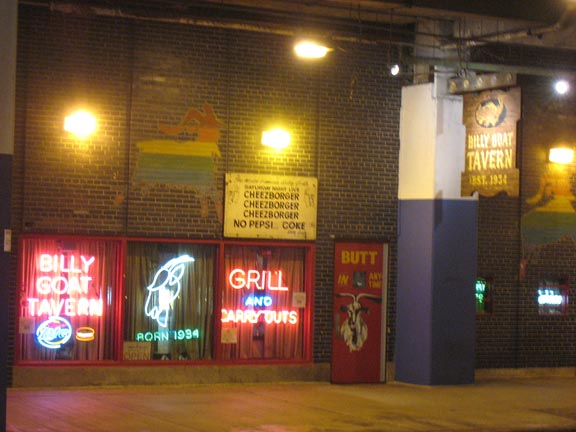 Down in the dungeon lives the troll. Well, no, the Billygoat Tavern in this case. It's where the SNL skit got its inspiration. Journos still lunch here. It's under Michigan Ave. Has to be cool. Definitely shady. No coke -- really -- only Pepsi.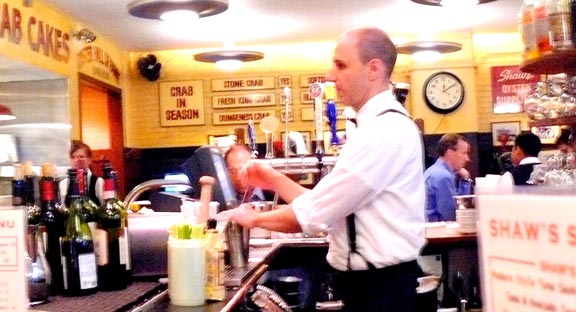 I sat right here in the Oyster Bar, taking a beer-break from the fancy wood-paneled side. (photo courtesy of food-blog "Cornichon": http://www.cornichon.org/culinary_dispatches/the_rowley_chro.html)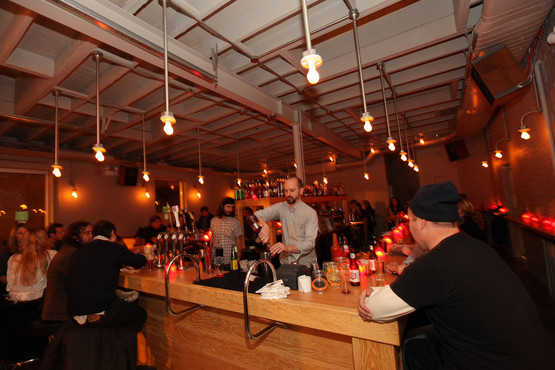 Big Star -- spiffy honkytonk in Wicker Park make fancy whisky drinks, deluxe tacos and spins retro vinyl only. Yeehaw!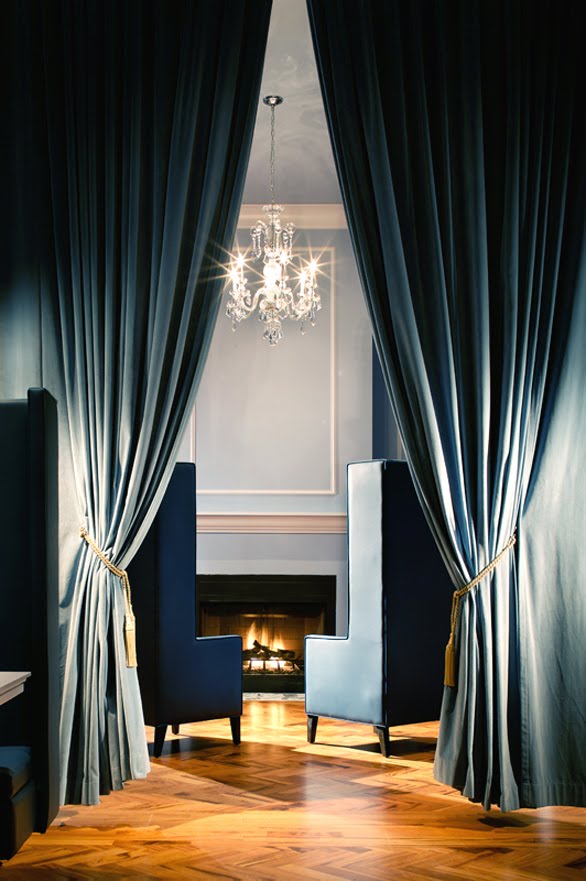 The Violet Hour. Hush! (photo courtesy of swanky blog, a212: http://www.a212.com/2009/11/bar-violet-hour-chicago.html)
Related Articles & Good Stuff
Views From a Wider Range of OYB