Stinchfield Loppet 2012: Pics, Vids & Report
February 27, 2012
Well, it was warm and sunny with dry ground up until a couple days before the event, but we got our snow. ...1.5" out on the trail. But that was enough!

In a low snow year in Michigan you don't whine or complain. You just seize the day when the snow does come. No foolin' around. We've had a fair number of snowfalls -- it's just that none of it has lasted. So we've had to jump on it when it's come. That's fine. We're ready for that.

But last year we had 30 skiers rarin' to go. This year 9. I guess it's hard to keep the faith in a thin year. To me scarce snow just makes the outings that much more special.

I'll still probably get in 25+ outings. JR might catch 40 before it's over. We're only down 10-20 from last year. We still have crust season. ...Which may be upon us this week.

9 of us True Believers met up and skied a couple hours at Stinch and it couldn't've been better. On only 1.5" of snow!

Layne was our new guy. Afterward he said he was sold. ==On the place and the plan. ...And this even though we ran the route backward and did the hardest downhill of the day right off the bat, nearly putting him into shock much less destroying his body. But he bounced back and partied hard.

Our method should be patented and promulgated. I suppose it is used already, but still. I see racing as what you'd do after a dozen or more outings like we do, as an occasional special test. I see sports groups of all similar skill-levels as being overly refined in many cases. The bedrock should be the diverse group outing. Skiers of a wide range of skills can all have fun together. Let the mad dogs go off the front in the challenging sections for awhile then wait up at the next nice hangout. I suppose this is standard outdoor sport protocol but in this case we mean it. Usually slower or diverse folks just get dropped or stop coming. That's not good. We want to make structural changes to widen the scope...to include even those who didn't make the outing. Anyway, on in-between terrain everyone just rolls along -- save the attacks for a special, specific section. Uncork it for an uphill, if you like. No need to stress. Everyone can get what they're jonesin' for this way. You can could even make a race of it by connecting a bunch of sections highlighting different skills. But mostly it should be a Moveable Feast. (Remember: the Vasa gets 100 doing the marathon; but when the Women's Ski Tour put party and food tents on the same trail they got 1000.)

I provoked JR on one of my fave long, winding, hardwood uphills by passing him at the base. He went berserk and repassed me and pulled away like I was standing still. Dang! I still went all out and enjoyed that hill to no end, but couldn't close the gap. It deserves for you to have a few stars in your eyes at the top. Last year, though, I kinda got trapped behind some people. It's better to blow things apart to make sure you're where you need to be. I needed some elbow room this time...and I got it! : )

We love Stinch. It has the Rollercoaster. It has several half-mile long twisting, winding uphills through hardwood glades. It has a wonderful 1/2-mile twisty, plungy, droppy downhill that needs 6" of snow over a nice base -- so we didn't do that -- but it's there as a special treat -- followed by a gorgeous 1-mile valley climb back up. It has a valley overview of a half-mile of plunging hardwood acreage. It's not like anything else within 150 miles, to be exact. It's the highest land in SE MI -- the home of the UM Observatory. I haven't found bigger hills on a ski trail outside of the White Pine Stampede's transitory route (can't ski it any ol' day). The Vasa doesn't have as big of hills nor as good of views. Yeah, Stinch rocks.

We worked on spreading the word ever further about the Skidaddle. --It's the only way to ski up a gullied hill. Most hiking/biking trails develop a gully on the hill. The standard herringbone move just won't work to get up 'em. This can be very frustrating. No other way has been taught to anyone! What to do? Do the Skidaddle! ...Twist your skis to the side and scamper up one side of the gully. But don't scamper to the side, go forward, use good classic technique, stay compact, keep your skis and poles floating up low over the trail. Keep it light and easy and keep your turnover high: don't try to bite off too much at each scamper. Watch the video...



http://www.youtube.com/watch?v=h--Or5VRTNA

After the ski, the fun started. : ) We gathered at the Preschool Parking Lot and broke out some chicken, chips, chocolate and beer. That was fun. Then a big SUV came squealing into the lot and DJ popped out and dropped a big cooler. He opened the lid and steam billowed out revealing a massive load of freshly grilled spicy chicken wings. Superhot still! And so spicy that we had to double up on the ice cold beer. Then the car stereos got turned up. Yeah, we had some fun.

Here's what DJ was doing in his backyard before he delivered the wings:



***

I still am tired of hearing all the haters in this state whine about it being winter. I think it's time this problem is met head-on and conquered and turned on its head and converted to total positivity and a spirit of thriving. This in turn will, of course, produce economic steam. The state should hire me as a spokesperson and give me a budget to put up ads and billboards saying "Michigan Ski XC Free Anywhere There's Snow!" and "Feel Cold? Do Something About It! Go Outside and Play!" We need to STOP being the state of Fattest Unhealthiest people and become a sensible place for a change. (I feel a rant coming on!) XC skiing should be our state winter activity, no two ways about it. Michigan should be ALL ABOUT XC. Sure, use it as a tourism hook. But, even more, use it as an everyday hook. I'm serious: anywhere there's snow you can get out and glide on it and feel joy. And stay warm. And get fit. And turn all the gloom and darkness of winter into positivity. And enjoy the much-cleaner air of winter. Michigan doesn't get enough snow for snowshoeing -- that's not the sport to push. Indoor gyms SUCK. The air is stale. OK, gyms are OK, but make sure you GET OUTSIDE. Especially in the winter! Take your lunch-breaks OUTSIDE. You need the sun! Even if it's in the clouds! You can XC ski nicely on 1.5" of snow, so that's what we need to push. Scandavians are identified with XC. Fine. We can be, too. All of us who can't do it can learn how. Our terrain is rolling, our views are intimate: both are perfect for XC. We have no mountains. There is no need WHATSOEVER for a ski lift in our state. There is no avalanche danger. It's a well-developed place so there's hardly a worry about getting lost, except you might lose a day -- you won't lose your life as long as you can walk 5 miles in a straight line -- that's all it takes to get to a road in our fair and friendly state. So go ski. Come summer it's time to identify with the bicycle -- our easy terrain makes that the natural go-to for fun and transport. (Add a canoe and small sailboat in there, too, to fit our endless mellow rivers and modest lakes.) Billboards, ahoy!

...Anyway!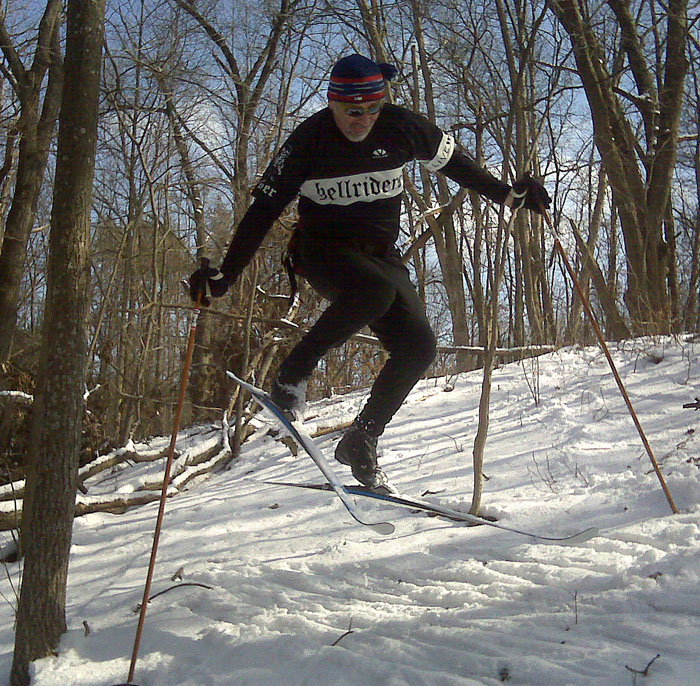 Excitable boy. Who wouldn't be?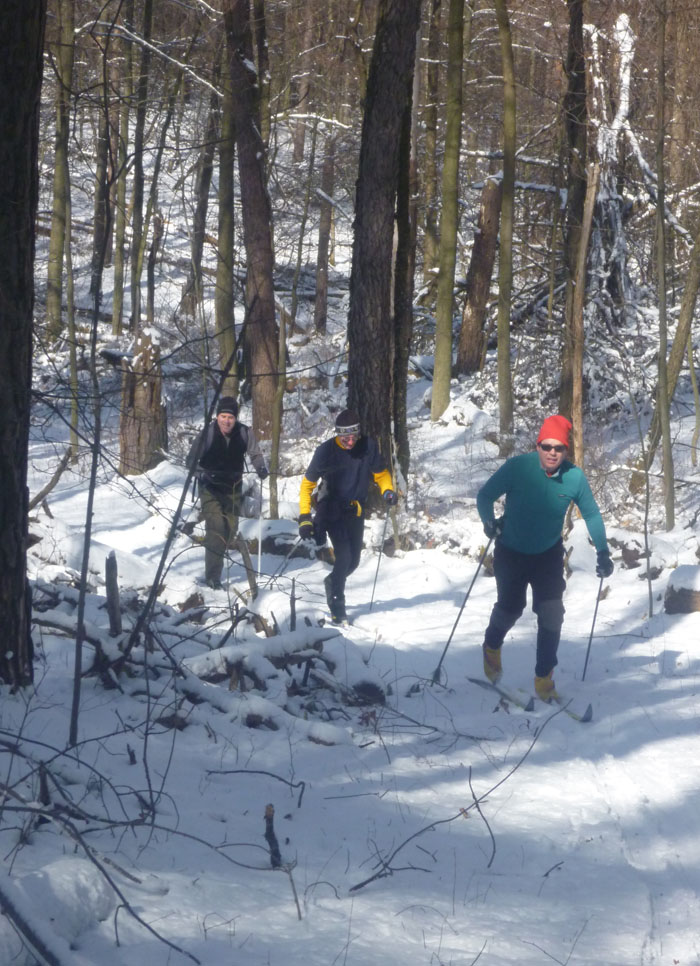 My favorite climb. It winds and winds. Around each bend it's steeper. Oh yeah!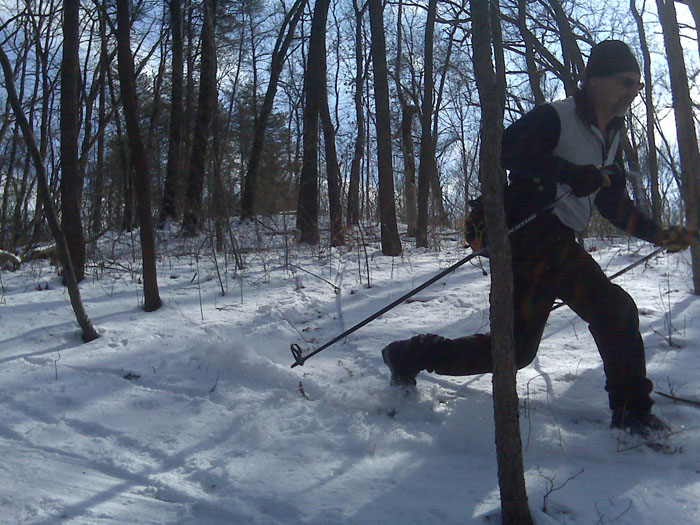 Dyno moves that could've been extended if we'd had 6" more...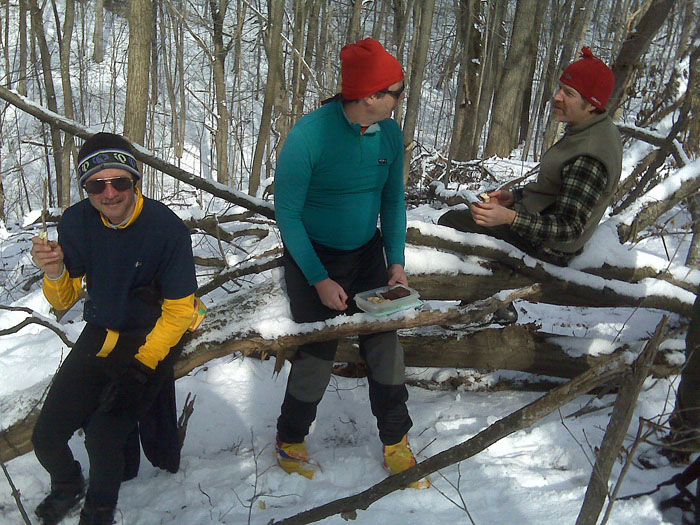 Lunch break overlooking Big Valley.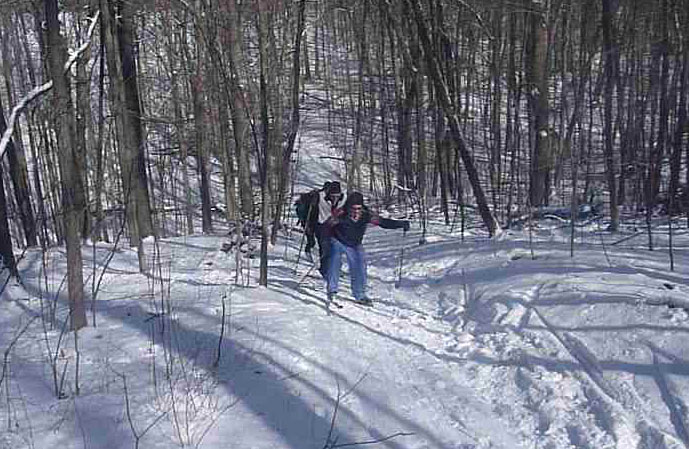 Skidaddle up the gully. The only way.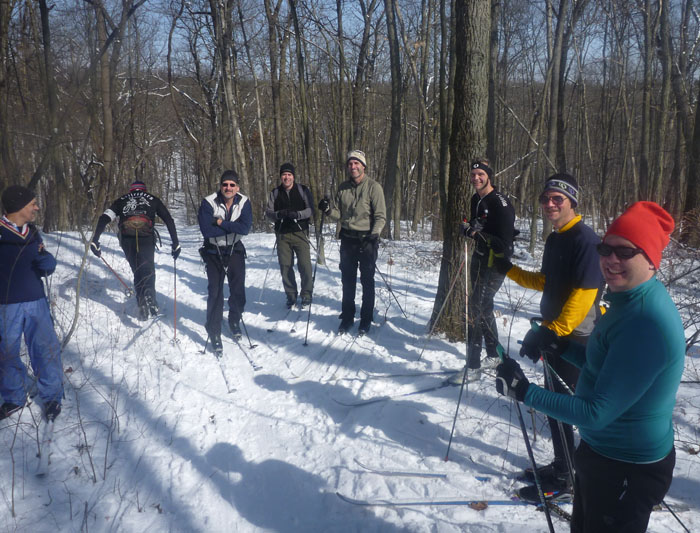 Regroup at the top. That's how we roll. (JR getting ready to fly back down.)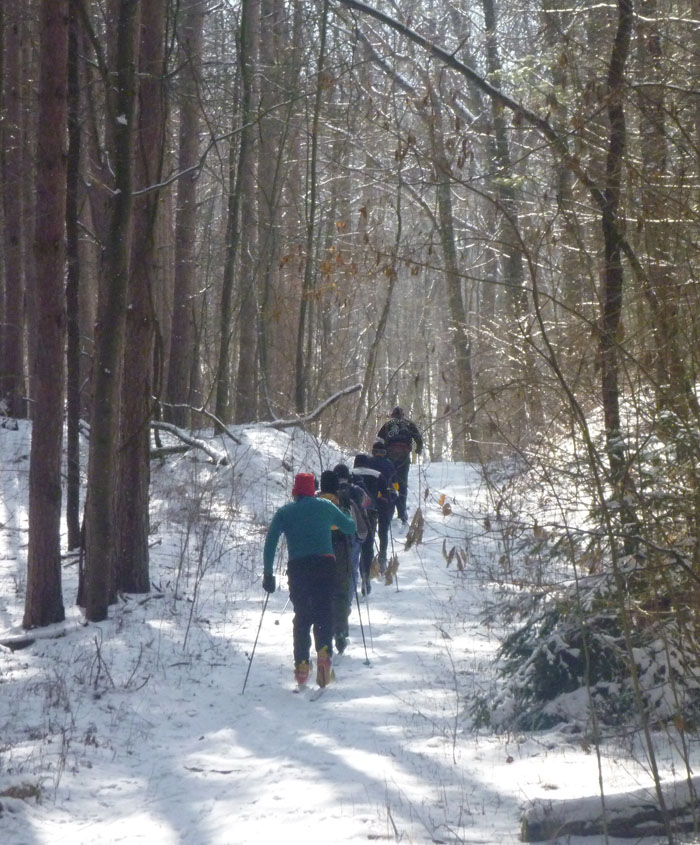 Climbing in the tall forest.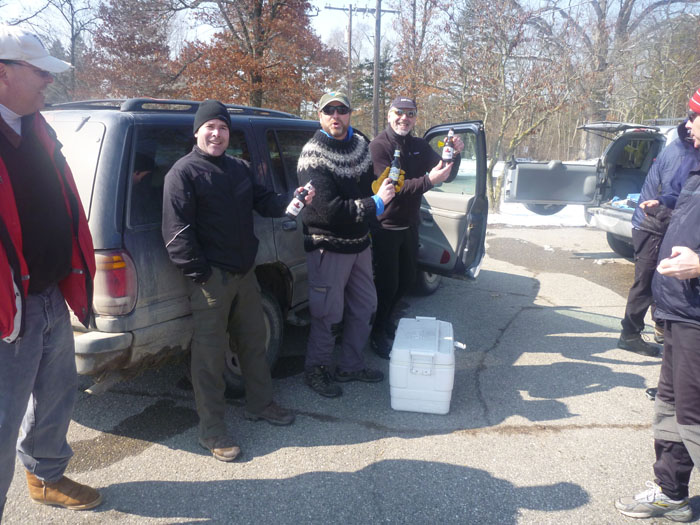 Apres'
Related Articles & Good Stuff
Views From a Wider Range of OYB