I do love staring into the Xmas tree...
December 08, 2009
[Bump from 12/05.../07...]

I like the depth effect. With the lights and ornaments stuck into deep into the interior as well as everywhere else.

Our friends do a spacious tree, with lots of open areas, and their ornaments hang on long strings---really pretty. It goes well with their old farm house's 9 foot ceilings and hardwood floors. Brings out the crispness and verticalness.

I also always put up some lights in the yard. I arrange them to give a 3D effect, wrapping them near and far around some bushes and trees, so as I move, they move. It's nice driving by our house, seeing the lights set back in the woods, sensing them orbit as you drive by.

Also, they're draped on low sweeping spruce boughs so when it's stormy they dance and swing, all motion.

I leave the yard lights on all winter. They are very effective for boosting good cheer during the long winter nights. I put em on during gloomy days as well. They work for me!

The kids get off the bus at 4:05 pm, so I make sure they're on then, too. It's already getting murky by then. Seeing some cheer when you get home after a long day at work has to be nice. They get you in the mood for all good winter things: sledding, snowballs, yard-skiing, ice-skating, fireplace, hot cocoa...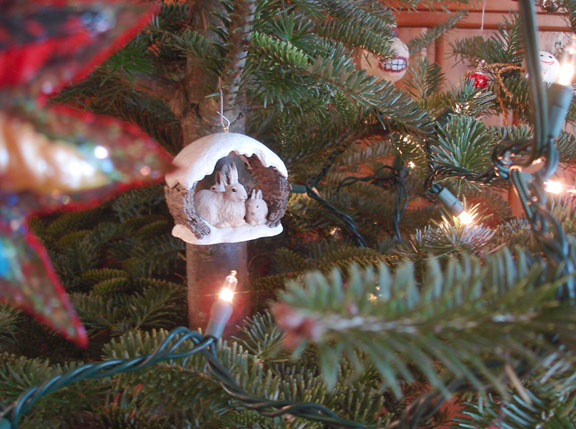 Lost in a tree...
Related Articles & Good Stuff
Views From a Wider Range of OYB