Oakland Interlude...and the Starlight Express
May 12, 2008
[Still pics down below. Vid clip, too!] After our few days of biking in the hills of Marin the busy guys went back to doing the real work of our cities and I lateraled over to visit friends in the East Bay. I don't get out much so when I do, let's see people!

David, my friend who now lives in Oakland, has lived in basically all the major US metro areas and said they were all easy to safely navigate compared to Oakland. Detroit is a dangerous place, for instance, but it's possible to comfortably live right downtown because the street life is predictable. The thing about Oakland is that everything is blended together, as a result crime has no pattern. Other locals as well mentioned a few times to me, "That's Oakland!" Offhand it seems like a special place in the US. Maybe it's because it's gentrifying as the rest of the Bay becomes too pricey. At any rate, crime and city government there seem to have a unique relationship.

Our mission was people watching, and that we did.

I also visited some bike shops and found the Berkeley Hat shop (with wigs). The Missing Link bike shop is a dandy one in downtown Berkeley. I was also impressed by how many indy bookstores there were---new, used and mixed.

One thing I noticed about Oakland cyclists compared to, well, everywhere else, is that they pedal slowly. They grind a big gear. Nearly all of them! It was amusing to move from one city-center area to another and notice that everyone's feet were circling slower. Also, the riders are stylish but the rides are more homespun. (David just started biking in Oakland a few days ago and reports that he now, too, is riding a bigger gear than usual. He suggests the phenomenon is due to the long gentle grades of the area that sneak up on you unawares.)

The next day a friend from Berkeley and I were set to get lunch while my host went to work. But there was a snag. She had a surprise job interview. Did I mind tagging along? She picked me up at the curb on her moped and we zipped around town doing errands to get ready. What a change of pace! It turns out this interview was for a *magazine* job and maybe did I have some ideas about that? So while she got ready, I took a walk around the block with some sample mags and mulled over this possible new mission. I got a brainstorm and on the way to the interview we discussed magazines. She came away thinking it went well...some of our discussion proved interesting to the publisher...so as a consultant let's go have lunch anywhere and celebrate! Where better than...Chez Panisse! What a treat! (And the home of California cuisine!) The thing I liked best about it was the little upstairs indoor-outdoor porch room with the open windows with the vines, flowers and branches right outside. I've decided that's basically what I like best when going out. I hate being sealed in.

(It turned out that my friend got the job!)

After lunch one friend met another then for dinner we all went out again...to an indoor/outdoor place.

The next morning, it was off to Amtrak!

We drove around downtown Oakland looking for the train station, following the Mapquest directions. They contain a basic error, so we were lost. I got on the phone with Amtrak. The operator said, Why don't you ask someone? I said, We have been! But no one speaks English! That was funny. I made the train with a minute to spare.

I was now taking the $56 Starlight Express south from the Bay to Los Angeles to visit my aunt and uncle in the Hollywood Hills.

A plane trip is also $50 and takes one hour. The train takes 12 hours. I asked my uncle which should I do. He said, The train! It's one of the most famous trains in the nation, going along the whole West coast. It's a doubledecker with a Vista lounge of floor-to-ceiling windows.

Here's a YouTube vid I made of a nice little moment in the last hour of the trip when a guy near me broke out a guitar...



But first, in the morning we went through industrial areas, then a couple hours of agriculture full of busy migrant workers. The nation's breadbasket! I've driven I-5 through the San Joaquin Valley before...it is magnificent; a true horn of plenty. I also think "Chinatown" every time. The cities, valleys and groves of California create an astoundingly important part of our national story of WATER. And sustainability issues regarding same. How long can you air-condition and irrigate for millions in a desert?

I was reading Steinbeck's "Cannery Row" as we rolled along through places that featured in it, like Salinas and its artichokes. This novel also is a major player in a new novel that I just helped publish, "Chicanery Row," by Mack McElderry, so I figured I'd brush up on the older tale. The new one is about today's incarnation of the Cannery story...where have we come to since those days? Well, there's a new little independent marine lab, thanks to Steinbeck's personal encouragement, down on the Florida Panhandle of the Gulf Coast. And there's a new Mack! And there are a new breed of inspirational artists. Check it out in my OYB Literature section for some truly worthwhile reading.

For the next few hours we rolled through hilly ranchland and river valleys. Then we hit the Coast along about entering the old Vandenberg Air Force base. For hours the train rolled along the beach and hillsides and surf. We watched the surfers. Out in the middle of nowhere we also passed a little public campground on the beach. Take note! It looks like a great one! There was a long, narrow, freshly paved road leading to it. It's in the old base and was recenly opened to the public, I hear. It has been public all along but apparently undeveloped. OK, it's called, I think, Jalama Beach campground. Here's info: http://www.santabarbara.com/activities/camping/jalama_beach/. On the southern outskirts of Santa Barbera we passed another lovely looking beach campground at Carpenteria. Here's a link to all the beach camping: http://gocalifornia.about.com/od/californiabeachcamping/California_Beach_Camping.htm.

We pulled into Los Angeles right on time. LA's Union Station is a vast and lovely place with vintage southwest styling and a great restaurant. One really should spend some time there and not just dash away upon arrival.

I note that timeliness can be a problem with Amtrak in general. I found a great way to figure out whether your train will arrive on time. Here's a website that tracks timeliness by train: http://www.amtrakdelays.com/. You can see how yours has been doing lately. If it's been going good, you're probably in luck.

A few things I've noticed about trains is that, one, there's almost always some nice socializing to be had. However, with the advent of electro-devices I have also noticed an opposite trend: some people just shut down and hunker into their electro-space. The same goes for air travel. In fact, it seems that cellphones are so relied upon for socializing that because they're not allowed on airplanes, and also because of electro-space, that airplanes as a result are deathly quiet. But socializing still pops up there.

Public noise kinda bugs me. I figure I'm new to traveling, let the old hands deal with it. I probably don't know the new rules. Maybe loud is now OK. But my eyes start to bulge. I usually say something after awhile, politely. It works. Sigh.

Anyway, on trains cellphones are allowed which does make trains occasionally a bit annoying.

Which leads me to my second note: the train often costs more than a plane but there does seem to be a healthy population of lowlifes who use it. Every time I travel there are usually a few such individuals plus a loud, large, unruly, blank-faced family. I can count on any and all of these to blare electronic devices and to use loud electro-speak for very long periods of time.

Which brings me to my third note: trains are spacious! At least compared to airplanes. So, thankfully, you can usually get away from rude, noisy people. On the purely upside, it's fun sitting in a variety of nice locations on a train.

A last note helps tie a couple other notes together: I think that people bring drugs on trains. People and luggage aren't inspected nearly as much. With most of the loud, rude people and families that I have run into I end up smelling pot on them at some point. It's a bit hard to imagine that people would pick such a different transit method, considering both time and expense, just to puff a bit of personal weed so I conclude that Amtrak is being used for mass-market drug-running. Lovely. What do you think, am I right about this?

Of course, boozing occurs in both places and results in an occasional peeve.

Still, the Coast Starlight is a great train! I really enjoyed the stops at various towns along the way, where we could go outside for a stroll, a chat, and a puff on a pipe.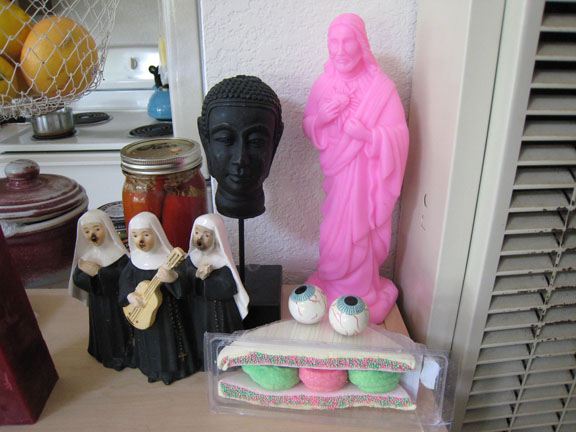 David in Oakland. I mean, David's *apartment*. (Explanation: Nuns incense holders. A marshmallow sandwich from Amsterdam.)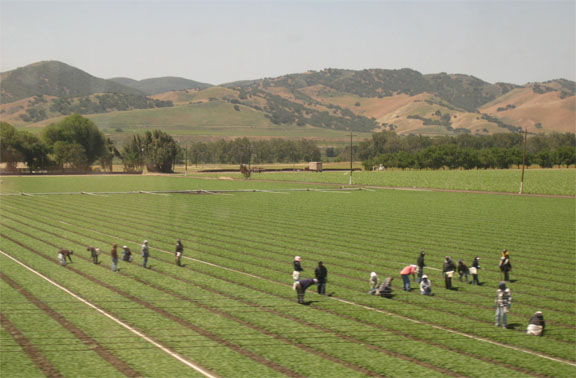 Migrant workers seen from the train.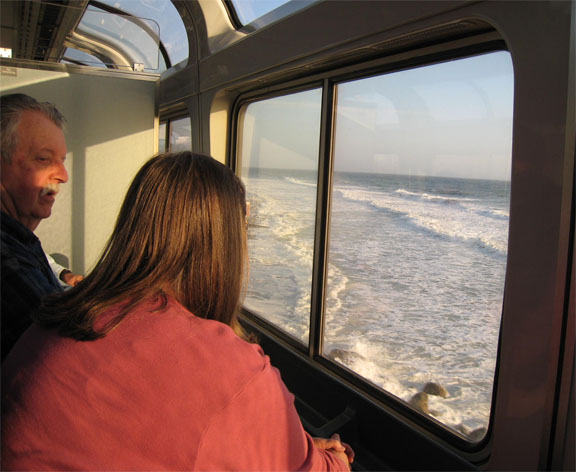 Surfside in the Vista Lounge car.
Related Articles & Good Stuff
Views From a Wider Range of OYB