"Back to Basics": classic book of traditional skills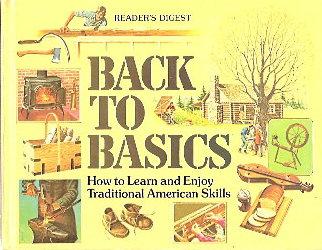 I've long owned and enjoyed a copy of the Reader's Digest "Back to Basics" book about basically the complete, entire range of traditional skills, so I thought I'd pick up some extras and offer them to OYBers.

Mine is a 1st ed. hardcover, so that's what I've stocked so far as well. (1983 printing of 1981 1st ed.)

It's an amazing book. It might seem a bit simplistic at first glance. It covers hundreds of topics, giving a few pages to each. But the content is actually spot-on, pithy, useful and clear.


You might also assume that much of the info is outdated, but really it's an encyclopedia of life skills that typical people can do and use. It covers modern home construction even and electrical wiring and plumbing. Sure, there have been many changes but these are the basic foundation skills. OK, the "plug'n'play" aspects of today's component-based construction method aren't covered, but I think that even PVC plumbing is included. The core concepts are all there, though.

Really, if you'd like to become more "hands-on" in most any aspect of life, there is honestly good, relevant info here about it. The info is also easy to find. Maybe it has a super index---the art of indexing is a subtle one that the larger publishers used to put a lot of effort into.

Topics covered:

*Land
*Energy
*Food (veggies and livestock on all scales)
*Cooking, preserving
*Homecrafts (fabric, basket, wood, metal)
*Recreation (camping and all other outdoor sports and skills)
*A concluding pitch for the national network of Ag Extension Services (outreach programs providing up to date education in rural ways of life...programs which are constantly being threatened with extinction due to their direct benefit to thousands in the vein of increasing competence and independence in everyone they contact...teach a man to fish, etc...ahem)

blog comments powered by

Disqus