Barry-Roubaix, Baby! Dirt Road Bikin'...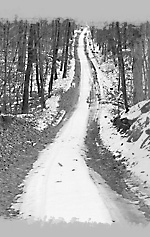 [UPDATE: This one is coming up! Next weekend! BUMP from 2/21/09.] There's a new organizer in town. Well, new to me. Rick Plite is going great guns. He now has 3 events going full steam on the west side of the state.

...The KissCross cyclocross series; the Lumberjack 100 mtbike race (which is sold out); and the new Barry-Roubaix dirt road road race this March 28, 2009.


My pals and I always dreamed of hosting a mixed-surface road bike race in the spring, to be held in honor of PR, but it never went anywhere. These days PR events are finally popping up and riders are eating them up. Roadies like a challenge. (Now to get a crit in Ann Arbor that runs around Kerrytown and includes all the cobbles and the huge State St. uphill...)

Barry-Roubaix will be based around Yankee Springs and will be a mix of pavement, gravel road and 2-track. Yeah!

Let's see how all the carbon compact frames and 8-spoke wheels like them apples... (Not that I want to be mean to such bikes. Dang, I'd love to try one this summer! Never have. Speed is good, so is light weight. BTW, I'm going to start doing squats in the yard soon and may well rebuild enough power that I won't be such a weight-weenie, which will hopefully make carbon a moot point. I have weights, don't have carbon.)
http://www.kisscross.com/Barry-Roubaix/
blog comments powered by

Disqus