"Bicycle Times": Issue #2 Good for Everyday Riders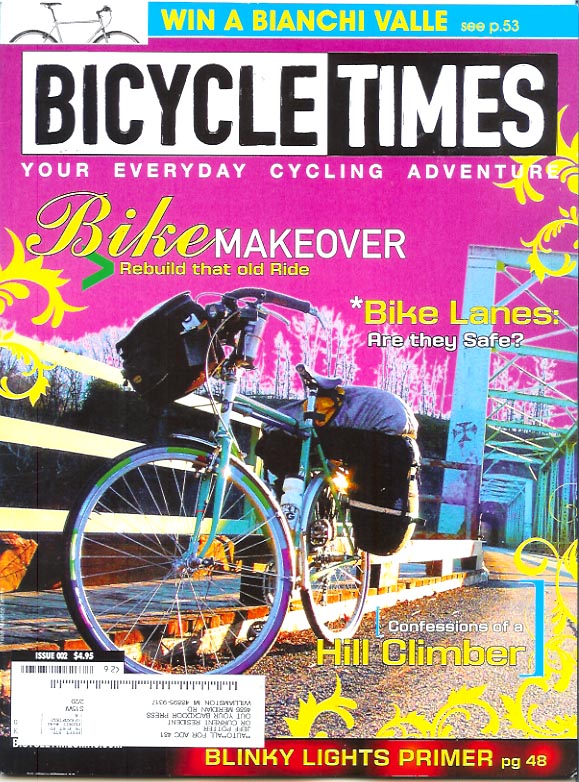 Issue #2 of "Bicycle Times" just came in. It's a new project that's geared to everyday riding, courtesy of the folks at "Dirt Rag."

"BT" is about errands, commuting, family action and just plain fun. Nothing too nichified or specialized or intense or high end. Just ride!

This here blurb has to be dualistic as their website is unrelated to their print mag but it has cool content of its own.

So I got the mag then I hopped over to their website and see a couple neat new reports right off the bat: Levi Leipheimer is hosting a "Gran Fondo" ride of his favorite training grounds where he lives in Sonoma.

This kind of ride is a "big day" that's popular in Italy. They have such rides every weekend. They're races but they're for everyone. It's a mass start.

Over here the concept seems to be morphing into just the "big day on a special route" idea. Which seems like a dandy thing, to me.


I suppose they're like a lot of organized centuries, which tend to go over challenging or favorite routes as well. Who knows. It sounds cool. Diverse bike ride concepts are always a good thing, sez me. (Like around here, I rode next to lovely little dirt roads for 10 years with my club but only recently started doing dirt road rides and even hosting them.)

Elsewhere on the site I see a report by a staffer on his process of setting up a home workbench---he asks that readers send in pics of their benches. Ha...I could oblige! I have some pics here at OYB of mine. It's a looker! : )

But now to the print mag: at least 2 reports make this a good'un. The "Bike Makeover" is always a super story. Everyone has their own take on how to do this. BT gives its multi-page exploration of what happened to one customer's bike as it morphed at a local bike shop. I love makeovers. I do em all the time! Ya never know which way a bike might go. Well, first you have a need, or your need changes, then you look at a bike and see how it might best follow your need.

Then there are reviews of folders and citybikes. Yeah!

...And ya know there are dozens of other goodies. I'll let you find out.

Plus an essay from a guy who just loves to ride UP HILLS. Double yeah!

Lastly, they dig into blinky lights. Gotta have 'em!
http://www.bicycletimesmag.com/
blog comments powered by

Disqus