Country Mice in the City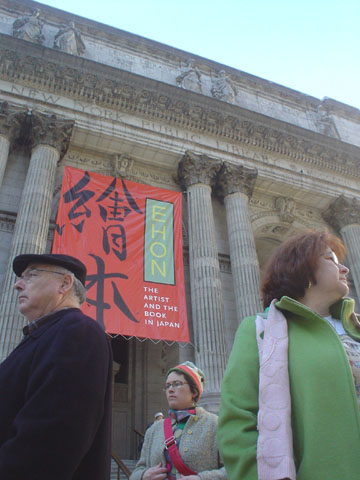 We went to NYC last week with the inlaws, courtesy of the inlaws (retired schoolteachers). What a nice Xmas present! It was over the top. We had a great time. (The pics here are a mix taken by me and Martha plus a few items borrowed from shop websites, ahem.)

We took the train from South Bend, after an hour waiting in a tiny ruin of a station in a seedy part of town with two other families who each had over 6 kids and teen parents. Since we boarded at night we went to bed shortly. In the chairs. We woke up to swampy swales---woods, creeks. Thin ice, occasional thin snow. Then it was the big hills of the Adirondacks. Then the wild Mohawk River near Albany which grew to a big valley river full of geese for miles. Then the grand Hudson River with its grand estates and distant cliffs. The lonely Bannerman castle ruin was amazing to sweep past, out on its lonely island, with littler castle outbuildings out in the water. A dream scene. I hung out quite a bit in the lounge car with its big windows. Several single guys were there. Obvious jailbirds. Full of hot air. Like all jailbirds? Funny to chat with. A wide variety of folks. Young people on long trips, a Jamaican guy. All friendly.



(from a Bannerman website)

The sleeping was rough, mostly due to the loud-talking Japanese young people nearby in the darkened car. I was going to bust them but whatever---I always wonder why it has to be me. I tried earplugs and eyehanky. I try not to be sensitive. About 1 a.m. a big young black guy checked his phone messages by holding his phone high and letting it make smoke alarm noises. I jumped up and yelled What the hell was that? For all the good that did. Still, every time someone makes a big rude noise a civil person is obliged to shout with startled dismay.

I also woke up because the car seemed ready to go out of control. It would get a harmonic whipping going, building up to wild lashing. About once an hour til morning. Must've been a rough section of track. I felt better when I learned that the staff car was behind ours. But what's the safety standard of rail anyway? How often do they check and repair for slop? What are the runaway leashes like? The cars seemed old, from the 70's. It sure didn't seem like an aircraft level of maintenance yet an incident seemed like it would have just as bad of results.

Everyone watches screen-devices on trains---dozens per car. One silent young professional couple nearby put up a pillow shield for their "Sex in the City." They scowled when Henry peeked in wonderment.

(I also note that airfare and trainfare cost the same from MI > NYC... $150 RT.)

Henry, Lucy and Grampa all started sketching in their new sketchbooks. Here's something "Hencasso" did of me:




DAY ONE

We arrive in the Big City as New Year's Eve is picking up steam. Mayhem. We subway it to our hotel.

We go out for a cheap, wild, non-English-speaking dinner in Chinatown. We meet some friendly street barkers. What an eyeful! Confetti was hanging everywhere already.

My nose was totally plugged with a cold. I couldn't smell a thing.

All kinds of wild Chinese grocery stores spreading out onto the sidewalks. Fishmongers.




Tons of delivery bikes. These are crappy Huffys covered with electrical tape, with huge baskets and wooden slats taped all around the top tubes to protect, I guess, against the huge-linked chains they lock them with. I also saw some bike-trucks---the ones with a small front wheel and even bigger baskets.




Gramma wanted to see Time's Square so we gave it a try. We got close. It was closed off, since hours before. Still, it was also an eyeful.

We went back to our room and watched the ball drop. All six of us in one small room. Tenement living lives!

I wore earplugs to avoid the snoring and an eyecover to prevent the strobe that flashed every few minutes from outside somewhere.

DAY TWO (Mon, NYD.)

We had Dim Sum at a crowded fancy place, the only white folks. Then we went to the pier and saw the Bodies exhibit. Then the WTC. Then we had beers and frites at Les Halles down there. We got fancy pastries and coffee at Ferrera's. Then more pastries at a hypermodern Chinese designer place. No dinner. Gramma still had big energy and wanted to go at night to see the Bronx zoo. The rest of us were walking asleep.

[Aside: The "Bodies" exhibit had a good dose of modern hubris, I thought. It lead off with a banner that said "The body never lies." Actually, it doesn't tell us anything. What matters? Quality. Meaning. What does the body say about that? Nothing. There were examples of healthy and diseased organs throughout. What do they say about meaning, quality or even longevity or causality? Nothing. Statistics are mostly what they let us deduce. Helpful, but hardly the main story. We don't know what the innards look like of people who live or who engage the world honestly or creatively. The show wrapped up with a quote from, of course, a doctor, which said "The body is the only thing we take with us from cradle to grave." Ouch. Our cells change over weekly. And weren't some of the exhibits about replacement parts? We can lose a lot of our body and still be our *selves.* I was amazed to hear the ooohing and ahhhing over the exhibits. Haven't we all seen body parts in books and on TV since we were kids? More now than ever. They had a religious awe going on. But the body is so temporary, so non-indicative of true worth---so indicative of *other* things. Something cultural weird was/is going on. The Greeks didn't even have a word for "body." Just "corpse." And that's where the docs start their study, with dead things, then they move on to disease. A limited view. They're fine mechanics, but we need to look elsewhere for what is of more awesome interest.]




DAY THREE (Tue)

Breakfast American-style at the Cup and Saucer diner. Hot, friendly, fast, vintage, owner operated. G&G have been here before. Gramma brought cookies as a gift.




We went and got scrumptious homemade donuts at Donut Plant in a Hassidic Jewish part of town, the Lower East Side. We walked by a pizzeria that had a sign saying it was presided over by rabbi so-and-so who was at the moment vociferating to his flock. We walked by a fancy clothing store where a tableau of old tailors was kind of at work, kind of loitering. It was picturesque so Martha asked me to snap a picture. I went to do so and everyone inside panicked, scowled, holding cardboard over their faces, etc., while one person rushed at me. I stepped in and said that they looked nice but not to worry I would not take their picture.

We checked out Kid Robot. The kids went nuts. Designer Japanese style plastic heroes and monsters, mostly pure art objects. Some quite pricey. We immediately set up a reward for good behavior.




We then went to the Natural Science museum. I edited the folding bikes book on a laptop in a nice atrium overlooking Central Park. Then we had a fancy dinner at Rosa Mexicano---the 2-story back wall of the restaurant was a thin-sheet waterfall. We saw Henry Kissinger walk by.

Bounty or no, the kids have been great. When we stop they get out their sketchbooks. Grampa, too.




We've been almost the only English-speaking people wherever we go. All nations of the world are on every side.

The fashions on the street and in the windows have been nice to see. The establishments are also lovely to look in on. In some shops, the dresses in the windows are changed every day!




There are several bike shops close to Chinatown. Lots of amazing bars and restaurants of all kinds. Plenty are very old, classy, rumpled, neighborhoody. No bookstores that I saw. One shop is called "Rice to Riches"---a hypermodern rice pudding stopping place.




Gramma tripped at the museum and sprained her ankle, slowing her up a wee bit for the rest of the trip.

DAY FOUR (Wed)

We had a French-style breakfast among tall supermodels in SoHo near our hotel. Then we visited the BikeWorks shop run by BikeCult author Dave Perry. We had a nice chat. Cool crusty little shop. Big on repair and custom service. He was a road racing pro back in the pre-Lemond day.




This area between the LES and the East Village seems so neighborhoody. It's full of trees, that's why. It looks kind of poor but very lively.

We learned that if one really lucked out you could get a 2-bedroom rent-controlled apartment for $1200/mon, but $1800 would be more likely. No wonder most indy folks live in Brooklyn anymore, but I've also heard that a decent midrange job on the island is $100K these days. We know some midtown schoolteachers who live near work. So it's doable, I suppose.




The LES is where I first met the ULA literary activism group people, at their biggest event yet, when they booked the famous Amato Opera House for a reading where they brought in outsider writers from around the country. New York usually does the exporting. Not that time. But the crazy bummer thing was that a literal typhoon hit that day. 50mph winds and buckets of rain nonstop. Rats! It was a neat event for galvanizing some members and for exposing some lightweights as well. And I got to meet some neat people.

An SUV parked in the middle of the street outside the bike shop and the driver left. Cars backed up then drove around. People didn't even honk. (There's now a big ticket for honking!) Then a Subaru with ski rocket parked along it, blocking all hope for driving around. Cars really backed up. Cops showed up, left, came back. Grampa Craig walked up the block and started directing traffic away from the street. A cop went up to him and asked him what he was doing, he told him and the cop said Thanks and walked away. Craig worked hard while I was at the shop. When we left there still wasn't a cop around to direct anyone.

We then heard of an amazing heroic life rescue. A boy had an epileptic seizure and fell off a subway station in front of a train. A man who had 2 young daughters with him jumped after him but couldn't pull him clear in time, so he pressed the boy down between the rails and the cars went over their heads, just grazing his hat. There's 2 feet of clearance. Wow, that happened right when we were there. What a real hero! What great good luck! That's what citizens really are like, I think. Helping each other out. --And that's what we got all the time from local people. Even before we'd ask people would offer to give us directions.




Then we went to Brooklyn and walked through Prospect Park to the library and museum. I got to smoke my pipe. Ah, yes. Warm weather, bikers everywhere.




Dinner at the most famous steakhouse, Peter Luger's (our waiter was the guy in center). A great oldstyle, rough-hewn place. We walk back over the bridge, a crystal clear night. Everyone goes to bed. But me!


(from Luger's site)

Our hometown friend Liz lived in NYC for 10 years and used to be called the Queen of SoHo. She'd given us a list of her fave hangouts. I determined to hang them out! There were several near our hotel so out I went.

It was 11pm already and the side streets were fairly empty. As I walked along a well-dressed young lady came hustling by in high heels---clok, clok, clok, clok. I hadn't heard that fashionable city sound before.

I thought about who I might bump into and what I might say. My main connection to NYC, I decided, was literature...and the ULA and our efforts to revive lit. How to explain it quick, clear and strong? Answer: We're publishing a new line of books to promote voices that haven't been heard yet but which might really be needed: nonacademic, nonNYC, unaffiliated, realworld writers who've paid their dues for decades already in the underground, in the zeen scene. Sound good? I hoped so... I also ruminated that I was perhaps one of the few folks in the lit publishing world who had lots of hands-on life experience: how many could say they were a biker, hunter, paddler, xc ski racer, telemarketer, big garden hoer?

First, just a few blocks away, was Fanelli's, an old cafe/bar, where certain young people were immediately friendly to me, almost alarmingly so. I was actually a bit in shock. I hadn't heard intelligible, friendly, even forward chat at a watering hole in so long. But literature didn't come up.

A beer, then it was off to the hypermodern Bar 89 of the fancy bathroom, which I had to use. I walked into the place I saw a guy coming out of and entered a large sitting room where a fashionable, statuesque black model-type lady was primping. I raised my hand in question. She said this is the place. There was a bank of clear glass-walled toilets along the wall, glowing purple in the dark. I went into one and instantly its walls clouded over. Cool.



(from Bar89's site)


I notice an effect the no-smoking law has had. The socializing is divided. Each bar has a group out on the sidewalk. There's new sidewalk life. Every place definitely now occupies its sidewalk as well as its interior.

I got a tip on another place to check out, the Spring Street Lounge. Saw some footlong rats as I strolled over. It was a lively bar. I made my way over to an open leaning area. A supermodel type young person with long ironed blonde hair and thigh boots and not much else on promptly said "You have to help me! I'm getting so drunk" and handed me a drink. She had a full beer and her friends had just dropped off drinks and shots all around and had their backs turned. So I got a free drink. I suppose it could've had a roofy in it and she might've taken advantage of me.

DAY FIVE (Thurs)

We checked out the LES Tenement museum. I went to another bike shop while the others took a tour. Martha reported that tenement life seemed like ours at present, that is, pretty nice in a way. I saw skywriting. The Hells Angels club house.




We're taking the subways everywhere. Easily.




We're really enjoying the artwork and musicians down there in the subways.




My nose becomes unplugged finally. I can smell! ---All urine all the time! Still, it's kind of a neat smelling place, NYC is.

We glide up to Grand Central Station and drop under it to the art deco Oyster Bar for some fresh ones. Henry sketches toy inventions for most of lunch. I overhear some fancy publishing people sitting near us. They're talking about Harry Potter...with desperate intensity. I'm sad for them. Here's a pic of the diner-side of the OB, it also has a wood-paneled lounge:




There's old lettering carved into the inside of the concourse that says Campbell Apartment. I wondered what it was then found it. It's a lounge off to the side on the inside of the station, offering "cocktails from another era." Proper attire required. I find nothing online about it. It didn't open til 3pm but peeked in up its stone stairs cut into the station, through its ancient iron gate. I saw a modest sized lounge with vast ceiling and huge fireplace and giant upholstered chairs and a bar. Looked good.

Then we go see the NY Public library. They had a neat exhibit on the "Rakish History of Men's Apparel." Oh yeah! : ) What a library. Seeing it gave me library pride. In our own local library, I mean. The NYC library has visual grandeur---but ya know what? We USE the heck out of our teeny, tiny local branch. I get rare books from them all the time. I order them up on the internet, from all over the country sometimes! Then in a week we get a cute robot phone message saying that our books are in. Free great research and inspiration. Oh yeah! It's a power you can't see. And I do appreciate it. Still, the NYC reading room would be a nice place to work.

Then we went to the Metropolitan museum. We take a bus ride for a change, where a cool thing happens.

Henry does his first public art.

He's writing down the lyrics in his sketchbook to a disgusting "bus song" he's invented. He sketches, looks up, then sketches. Three lovely Asian ladies sitting across us suddenly laugh and ask if he's drawing them. He shrugs, embarrassed, and I saw, No, he's just thinking, but maybe he would draw them. He says he wants to finish his lyrics and then does so. Then they say, Come on, draw us! He looks around quizzically and we all say, Go on, it'll be fun! So he does. He gets one done then their stop comes up. He signs it "Hencosso." Because his character sketches look kind of Picassoesque. They love it and shriek. It does look pretty neat. If he would've had time to do all of them he could've made $10, I bet. Lucy caught on in a flash and whipped out her sketchbook and did a quicky that was a bit cute and signed it. They were happy to get both. What fun.

So Henry is on his way.

And so is Martha. She had a neat public thing happen to her recently that I have to tell about. We were sightseeing at a major gallery in Chicago at Xmas. I was standing nearby when a lady came up to Martha and said "Excuse me, but did you make that scarf?" ...Sure. "And did you make that hat?" ...Yeah. "WHO ARE YOU?" Turns out the lady was the gallery owner and wanted to hook Martha up fully by displaying any product she might have, at any time of year. So that was a social thrill for an artist.




Martha and I then split off from the gang and go off for a romantic French dinner at Pigalle's and a Broadway play. Grey Gardens. Martha got the tickets half price on eBay. It's based on her favorite movie. It's a bit too disturbing to me. The play features a few movie stars and I see a couple movie people in the crowd.

We then go to Tribeca to the old "clean white place" deco Odeon bar for a nightcap and meet a wild, funny writer/artist/webdesigner lady who's drinking fancy champagne. She loves M's scarf. She's so smart...but is surprised to hear that the Great Lakes have blue water and white sand and that they aren't salty and asks how we party there in Michigan. And they say New York isn't a small town.



(from Odeon's website)

NYC is fun so far. It's neat to be in a fashionable place. Where people check you out. If you have an idea, you can present it and people will check it out. This can be in any form. Fashion, art, whatever. They give you a chance. We're not snubbed pariahs here, like we are in our homeland of baseball hats, pro sports fanwear and sweatsuits. So far I think that my tweed and fedora is working. I haven't seen many fedoras out and about. Maybe 2 or 3 others. All oldsters. But they looked good. The $15 Ubu fedoras I saw selling at street booths seemed nice. I should've gone bigger, though---I only thought of my houndstooth jacket a few days into the trip. A bolder check. Martha said, Yeah, I was wondering why you left it. (Lots of help!) One guy did think I was German though---and I think he had a German accent. That was a bit unsettling. The NY Pub Library had a neat exhibit: "A Rakish History of Men's Wear"---that was fun!




DAY SIX (Fri)

We visit the oldest part of town, where George Washington hung out. Lovely old bars, cafes, restaurants and grocery stores down there by Wall Street. Cobbles. Then we go up to the East Village and the kids go nuts over the hypermodern Automat. The grandparents had been hoping it was an oldstyle one. They used to be fancy places but with automatic food. This was just a nifty stopping place in the wall. We then sidle over to McSorley's for a very rough-hewn pleasant lunch and beers. There's an open woodstove behind my chair. The bathroom has a clear window door to the main floor. Old, old, crusty, crusty. Craig sketches away. He's been sketching the whole trip. We then to go another toy store where the kids freak. The adults are impressed, too. Toy Tokyo. More Japanophilia. Henry makes another deal for reward. A neat old tiny Belgian frites stand is next door.




On the way back to the hotel I stop in at Bicycle Habitat, another bike shop that I hadn't noticed right nearby. They sell a full line of elite-but-friendly Brompton folding bikes. A lovely sight to see when you're editing a folders book! Lush Brooks Pro saddles come stock on some models. There's a new "naked" paint treatment offered---a clear coat where you can see the brass welds and plain metal. You can buy major titanium upgrade parts (fork and rear triangle) for an extra $500.

We leave the kids with granny and go up to free museums night, starting with the Folk Art museum. I'm inspired in at least 2 ways here. Then over to the Whitney. The Picasso homages exhibit is powerful, hearkening back to a day I can only barely comprehend. When artists kicked ass. Think of it.

It's late when we're done, but everyone wants to go out to dinner. We go to Little Italy nearby. The wonderful old Lombardi's only has a table in the shockingly stuffy basement so we pass. We end up eating OK outdoors. Again, the only English-speakers around. Everyone goes home, but I head out to see about the West Village. I read that Chumley's is a no-sign literary hangout that comes to life after midnight. I find it. It's mobbed with drunk college kids. They're perhaps not Neanderthals but I'm way behind them. I now recall that I had one opportunity for a decent chat but I passed. But I'm really giving them the benefit of the doubt. Basically, it was full-on drunk rich kids. So I just study the place. It has old book jackets and faded two-fisted writer pics on the walls, of the old customers. At the nearby White Horse Dylan Thomas drank his last 16 shots in a row. The goodle days. I took a pass.

These old places are neat but maybe too self conscious.




The best place wouldn't really have to slather its walls with its past, would it? But they are neat. Better than football on 10 teevees and blaring 80's rock.

Speaking of which, after I started wandering back I noticed that Greenwich Village seemed like the first unsavory touristy place. It was because of the college kids. And the bars did mostly have lots of TVs and blaring rock. I wandered around a bit. Nothing seemed civil. There were jammed young people places, blaring. A couple older-people places with one or two tight clusters. Friday night and not much really going on. Oh well. At least I saw two more moderately sized rats.




So what was I inspired about at the Folk Art museum? What ideas has this trip provoked?

First, I saw a "preaching stick" on display. It was a carved walking stick, with words and symbols. It made me think that such a stick might indeed be a useful mnemonic device for philosophic ideas or that maybe I could someday make such a thing as an art gift for Jack Saunders, a writer hero of mine.

Then I was made to wonder all over again at the descriptions of folk and outsider artists. One flyer said that Outsider art was big in the 80's and 90's, but that the Internet has made it so easy to learn about the world that there are fewer artists who are cut off. But is that why we like Outsider art? Is it really ignorant? Wouldn't the Net actually just strengthen and grow the folk and Outsider art scene? Sure, some of them are actually medically troubled. But folk/outsider is far bigger than such novelty. It made me wonder...

I personally wasn't much into the museums. I saw the art as being in the life of the streets and in the people. I kept thinking of that line in the movie about Kerouac that Jack (Saunders) keeps mentioning. The Jack (Kerouac) character is visiting a hip friend in NYC (maybe?) who's having a party. He's sitting in a basement bathroom writing. Someone comes in and says, "Man, there's some great things happening upstairs!" Jack answers, "There's some great things happening down here, too." The art isn't on the wall. It's NOW. Whenever you're creating, or maybe even just paying attention.

In general during this whole trip I saw NYC as a place of competition and insecurity. It's a neat mix. People dare to do things and express themselves because in a sense they're unsure. They're brave because they're afraid. But not too afraid. They're compelled, they work hard then they want a suitable arena. To see if they have what it takes. NYC is a place where people go on purpose. Everyone there is kicking ass. They're going for it. Or maybe they're protecting a hustle. Still, they have to stay on their toes.

The whole time I thought: If you want to make it in NYC you'd have to go there to work. Eat simply at home, fresh produce. You'd produce, not consume. NYC is a place where it's easy to get fat and spend and get your ass kicked. It's also an opportunity. Maybe it's so full of itself, maybe the chip is too big---but all the more reason to hit it harder. You don't need New York, but it is a neat place to go to be inspired. And maybe to work. So much is right there in any neighborhood. I think my goal would be to try to make every trip to New York pay for itself. You go there to get something big done. To come out ahead of New York every time you visited would be something indeed. I mean, either New York gets you or you get it.

DAY SEVEN (Sat)

Cup&Saucer one last time. Then we checked out Pearl River a huge Chinese department store. Then back to Amtrak where we got good help finding seats all together from a friendly Red Cap. We had dinner on a tablecloth in the dining car on the way home along the Hudson river. Three single blowhards near us, laying in with entertaining tall tales. One was an "almost famous" drummer. Another a shockingly slimy (in appearance and conversation) publishing person who I was too dismayed to mention publishing to. And a friendly bus driver. The drummer verged very close to "flee from."

We got out, back again, at South Bend, at their rat-hole station, and drove homeward. The open fields and scenery of Michigan was nice to see.

We took a break in Three Rivers. I was impressed. Indy culture type businesses were making a go of it all along main street. A big new/old bookstore and toystore combination. A fair trades world market. A couple cafes. A "variety" store with groceries. A couple decent looking restaurants. A fitness gym full of fancy equipment...but with only one person there...gulp. Still, I know that there's a famous archery mail order house downtown there, too. So, wow, an American small town that just might survive. The bookstore had a poster on its window saying "How to Build Community---turn off your tv...sit on your porch...meet your neighbors...use your library..." and a dozen other things.

Maybe there's hope...



blog comments powered by

Disqus