From OYB: "The Blue Sun" -- blues with Guthrie/Kerouac twist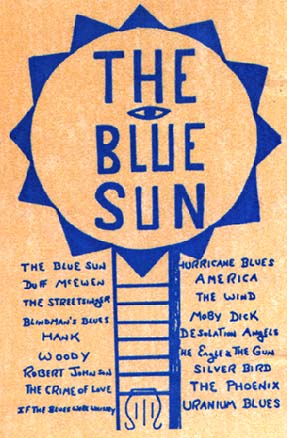 Welcome to "The Blue Sun"!

Here's new music, courtesy of the amazing OYB label! 18 songs of original American music the likes of which you haven't heard before but which will add to your life. Rich, twangy swamp blues with worldclass lyrics. The better stereo the better these songs sound.

Mac McElderry brings us "The Blue Sun" courtesy of his decades of global wandering and minstrelsy and busking with his 12-string dobro.

Job number one: get the music out! It's been hiding under a bushel for way too long. Here's your first chance to get important new American music. Something like Leadbelly, say. In the vein of Woody. It's big. It's connective. When is the last time this happened?

Slim (or Mac, or Em---nicknames) is also a writer and an artist. You know how I love those crossover talents!




A photo from when Mack showed up at our house last summer, on his way to visit his mom, then to go to Puerto Rico. A dulcimer had been cut out of the wood used to repair his car door. Did you know that steel dobro guitars weigh about 20 pounds? "Try carrying one for 30 years," he said.

Mac created an amazing songbook of over 100 songs and art plus essays on the wandering, loving, radical life fully lived, called "The Blue Sun." It contains the lyrics of the songs on the CD and many more. Ever wonder what a map of the Blue Sun Coast looks like? (What's a Blue Sun anyway?) I'll be reprinting the whole songbook. The original has an amazing silkscreen-printed cover and lovely mimeo interior. I'll get some of those, too, for the collectors.

Mac is 70+ now and still rocks. This music and art has been passed around underground for years. Suppressed. A white bluesman still isn't welcomed at Ole' Miss, where he used to teach, and where he recorded all this. He'll probably come your way if you like. He lives in a no-electricity barrack in Panacea, Florida, next to Jack Rudloe's "Gulf Specimen" marine lab. They've been best misfit buddies for decades now. Mac: grey, tall, slim, ethereal. Jack: short, tan, round, mercurial. See them stroll together down that old oystershell road to the bay. (I publish Rudloe's novel "Potluck." Another publisher handles his many famous marine life books.)

Now, I had a harried sales manager of America's biggest folk music store tell me there are "literally 100,000 blues musicians in America and they all have a record." And he says he's keeping the door open. He seemed afraid of me, but he was willing to talk a moment: probably better than most music biz people. So...how does Slim rank to you out of 100,000?


Click on links below to buy songs one at a time! $1 ea!

free samples and lyrics, paid downloads are via PayPal, about 4mb, (all songs in .mp3 format but paid songs are in .sit format, and with older Macs they're named 'get.asp'--just rename with .mp3 extension; samples might be a bit lo-rez)
A "Tough" Review
Hey, here's a nice "tough" review of several "Blue Sun" songs from longtime reviewer/musician Tom Hendricks. He prides himself on objectivity and a deep background in the arts. His reviews are available various places online, especially at
musea.us.
Check it out:
***
Review # 67 3/07
Title: The Blue Sun (CD) / 7 songs from the 2-cd set.
What is it? : 7 Songs from an online two cd set titled "The Blue Sun'"
by folk/blues singer Slim McElderry. He accompanies
himself on a 12 string dobro.
Technical Quality: Recording quality of voice and dobro is
average. It sounds like it was recorded live in one take in the studio.
His voice is strong, growly, low, expressive, and dramatic.
He sounds to me somewhat like Leon Redbone.
He often narrates parts of his song and/or whisles passages.
Both add variety to the straightforward voice/dobro arrangements.
His singing is sometimes screechy on the high notes.
His playing is excellent and he shines in
his folk and blues finger picking style.
Innovative Quality: Average. His lyrics, instead of being about
the usual folk subjects , are often about earlier
blues/folk singers such as Woody Guthrie and Robert Johnson.
Review:
Seven songs are all above average blues/folk pieces. All tell
stories in a direct, and dramatic way. The compositions are all
above average and stand up to repeated listenings. His voice
is honest and his playing is excellent.
1. "The Blue Sun". Can the sun have the blues? "The soul
of the midnight sun is blue."
2. "Street Singer" tells the story of a blind man who
advises the singer, "If you are a street singer, you better live your
song."
3. "Blindman's Blues'" tells the story of 3 blind blues singers:
Blind Lemon Jefferson, Sonny Terry, and Cisco Houston.
4. "Woody" tells the story of Wood Guthrie and starts out,
"Out of the dustbowl..."
5. "Robert Johnson" tells the story of Robert Johnson, the"Devil
King of the Delta Blues."
6. "Moby Dick" --- "Here's an old fable about a madman who sought
revenge on a poor dumb brute." Note, on this song Slim sings
a verse acappella, which adds a lot of drama to the ballad.
7. "Desolation Angels'" that begins, "Did you know citizens that
dead or alive we're all angels. Some working for the one boss,
some working for the other."
Overall the songs are consistently high quality, old fashioned
blues/folk songs. They are a notable testimony to Slim's
lifetime of singing and playing. Recommended.
Overall Grade: 6.6
Grading system: 9-10 Highest grade - Life's work of
a master (ex. Collected plays of Shakespeare, collected
symphonies of Beethoven) 8-9 Single best work of a
celebrated master's career. 7-8. Best work of an era or
genre or decade. 6-7 Best work of the year. 5-6 Very
good. 4-5 More good than bad. 3-4 Average amount
of good = amount of bad. 2-3 Mostly bad with some
redeeming parts. 1-2 Nothing redeemable. 0-1 So bad
it is offensively bad and outrages the reviewer for
taking up that time in his life -- just awful.
Musea guarantees a review for all art work in any
conceivable field IF you follow the rules posted on
our website or e-mail me. Tom Hendricks
tomhendricks474@cs.com
musea.us
blog comments powered by

Disqus