Grampa Walton -- Will Geer: a Radical with Woody Guthrie, et al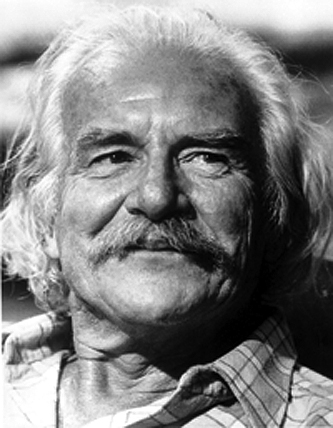 The things you learn from a cartoon. I watched the intentionally obnoxious "American Dad" last nite, the "gay episode" and the dad mention "Grampa Walton" in a rant. That caught my ear since I grew up watching that show and I liked that actor. He reminded me of my grampa, who often watched it with us and who would remark on the rural life and furniture making which was also his heritage. My gramps even looked a bit like Geer.

So I wiki'ed ol' Will and here's what I found...

I never knew...

He began his acting career touring in tent shows and on river boats.

Geer was also the lover of gay activist Harry Hay.[3] In 1934, Hay met Geer at the Tony Pastor Theatre, where Geer worked as an actor. They became lovers, and Hay credited Geer as his political mentor.[4] Hay and Geer participated in a milk strike in Los Angeles, where Hay was first exposed to radical gay activism in the person of "Clarabelle," a drag queen who held court in the Bunker Hill neighborhood, who hid Hay from police.

Geer made his Broadway debut as Pistol in a 1928 production of Much Ado About Nothing, created the role of Mr. Mister in Marc Blitzstein's The Cradle Will Rock, played Candy in John Steinbeck's theatrical adaptation of his novella Of Mice and Men, and appeared in numerous plays and revues throughout the 1940s. From 1948 to 1951, he appeared in more than a dozen movies, including Winchester '73, Broken Arrow, Comanche Territory (1950) and Bright Victory.

Geer became a member of the Communist Party of the United States in 1934. Geer was also influential in introducing Harry Hay to organizing in the Communist Party.

Geer became a dedicated activist, touring government work camps in the 1930s with folk singers like Burl Ives and Woody Guthrie (whom he introduced to the People's World and the Daily Worker; Guthrie would go on to write a column for the latter paper).[5][6] In 1956, the duo released an album together on Folkways Records, titled Bound for Glory: Songs and Stories of Woody Guthrie. In his biography, fellow organizer and gay rights pioneer Harry Hay described Geer's activism and outlined their activities while organizing for the strike.[7] Geer is credited with introducing Guthrie to Pete Seeger at the 'Grapes of Wrath' benefit Geer organized in 1940 for migrant farm workers.

Geer did summer stock at the Pine Brook Country Club located in the countryside of Nichols, Connecticut with the Group Theatre (New York) studying under Lee Strasberg.

Geer was blacklisted in the early 1950s for refusing to testify before the House Committee on Un-American Activities. As a result, Geer appeared in very few films over the following decade. Notable among them was Salt of the Earth which was produced, directed, written, and starring blacklisted Hollywood personnel and told the story of a miners' strike in New Mexico from a pro-union standpoint.

***

Isn't it amazing and wonderful how actors and musicians would be on the edge of multiple strands of social relevance back then? These were supercharged people who couldn't be stopped or held back. They had influence beyond their immediate projects.

What frickin' actors and musicians do that today? ...Other than via PR planning and charity work a la pro athletes and their obligatory hospital visits.


Geer was "in" with Guthrie, Seeger, Steinbeck and Stonewall ... and Okie Camps ... and miners strikes ... and riverboats and tent revivals! Those were times of "yeasty foment." And quite a generation. I'm happy to have been able to touch on it a little, but not enough. They weren't the greatest Gen just coz of the War, but even more because of all the huge social action they spanned and were involved with. It was actually probably hard NOT to be involved: technology hadn't separated people from their lives yet. ...Altho machines sure did! Both fast machines and slow could enslave us, eh?

How does this relate to Outdoor Action culture? Well, athletics used to span a wide range of culture as well. Even in my early days at it "pro's" were kept apart. It was a real separation culturally. In our amateur sport, "training" was actually frowned upon! It was a low road. It was too obvious. Of course you could force improvement like you were a machine. But the cool gains came from love of action. Style mattered. Sunglasses were resisted in bike racing at first because you then couldn't see people's eyes. It was felt to be hiding. Cyclometers were silly. It brought machine info to our art (even if our art was machine-based!).

Also, we didn't specialize. Everybody raced everything and every season.

People would sing on rides. Cycling had the Italian connection ... and the operatic.

And this was in my day, when everything had already faded. In the heyday cycling was part of the counterculture. And in old UK clubs rides actually included stops to write poetry! And club newsletters competed on the verve of their poets. They were also allied with radical politics ... both there and here. So clubs included both young and old radicals.

Now, today, in the growing sectors of cycling that strain persists. It's what attracts a good portion of youth in all eras, isn't it? Now, some youth love strict structure so there's that side. But some like art, so there's that, too. Urban cycling seems to be booming. It's interconnected to other social issues. That creates the yeast for the boom.

So I like to give occasional props to other folks who have "covered the bases" and ranged widely.

***

Back to Grampa Walton... Was he ever on Johnny Carson back then? Did his activism get any PR? I suppose even in the 70's that one's Blacklist pedigree was not broadcast.

Geer's Gen was a bit older than WW2 vets, as well. My grampa -- born in Oughts -- went from "before airplanes and cars" thru both big Wars. From "if it's not downtown it's a farm" to minimalls. From before radios to the Mac! He knew old "out west" cowboys and also Civil War vets. His immediate family was IN the Civil War. ...He was right there while we actually *assassinated* the best leaders of an American Generation. (Sadly, at that point Americans had to divide themselves and bring in more control so that all leaders wouldn't be killed by the insane populace of Perpetual Adolescents that is our unique trait.) That leader-killing spree was HUGE! Millions of people here built their own houses still, by hand, shacks, and plowed new land. Many in his Gen grew up in SOD houses. And back East there was hand-to-hand political combat in the streets. American cities were BOOMING -- and the challenge then as now was to make sure the money flowed to the Workers. Safety and health became "aware" in his lifespan. (I toured my Grampa's furniture factory in GR with him -- exposed belts ran all sorts of machines.) Civil Rights and Rock'n'Roll! ...Well, Will Geer was part of all that reality. You could SEE the bemused look of experience on him. He looked like Mark Twain (as did my gramps somewhat) and had that affect, too.

blog comments powered by

Disqus