Great Old Unknown Band: THE FUGS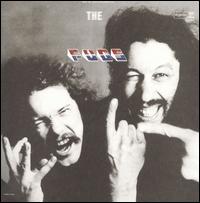 ...Unknown to me, anyway. OK, "lesser known" might've been more fitting, but unless you're hip this band is basically off the radar.

A young member of our "life studies" meetings recently turned me on to them. His dad was into them. Then we found out that our group host Ron Puhek also appreciated them, had an old album. Those two would snicker and wink at each other so I had to get to the bottom of the fuss and finally borrow the "Electromagnetic Steamboat" box CD set that Clint gave to Ron last Xmas.

WOW!

I listened to the three CD's over and over as I worked in my shop, hammering rivets into bike luggage. It was a bit nuts, I know, but I sure like 'em.

So after listening to them awhile I stumbled onto yet another serendipitous connection: my literary hero Jack Saunders occasionally refers in his writings to a book titled "Tales of Beatnik Glory" by Ed Sanders. Well, I finally put 2'n'2 together: it's the same Ed who is the lead singer of the Fugs! Jack never mentioned Ed's famous groovy era band, or even his bookstore. Yeah, Ed Sanders had a famous East Village bookstore called the "Peace Eye," where he met the other co-leader of the band, Tuli Kupferberg.

Tuli died in 2010 in his late 80's. But what a name! He kept up his loudmouth ways all the to the end. I hear he has some good YouTubes. Tuli was famously hinted at in Ginsberg's "Howl" poem. (Which I've now finally read, thanks to inspiration from this blast from the past.)

Ed is still alive and well, maintaining the main Fugs website, it seems: thefugs.com.

Ed also wrote a famous 1970's book about the Manson Family.

I've started reading "Tales" and it's a dandy. How neat to finally get an entre' to the hippy world that I missed out on by being born too late.

He also wrote a well-regarded (in underground circles) book called "America, A History in Verse." It's 9 volumes -- he's up to volume 5, apparently.

Anyway, the Fugs are a hard-rocking band from about 1964. And creative. They were cutting edge. To hear them, they still are. It's good to hear anti-war music. (Where are the protests today? Sure, our enemies today want to enslave women, etc., but blowing up ignorant rural folk is not the answer.) It's also hilarious music. Humor was a big weapon in the 60's. They mocked the hippies even as they were hippies. They were the first band to include sex, drugs and candid obnoxiousness. The cops were far touchier about all that back then. And the business world, too. Of course, business still is, if the transgression comes from the wrong source.


They're often called "proto-punks." Early on they were compared to Frank Zappa -- but that really made Frank mad. The Fugs started recording before they knew anything at all about making music. They couldn't play any instruments and only slipped into a contract on their nerve and the label of a primitive folk "jug band." I haven't heard much of their earliest work. There are YouTubes of it and it does sound terrible. The "Steamboat" box set, though, is full of high level production values. It seems like they learned how to sing and play and even orchestrate just fine. There may well be background info on that.

I finally found a good YouTube of them. This one has 2 good songs and a closing interview with Ed about WHY they did it. ...Good answers! (Coz they HAD SOMETHING TO SAY and WANTED TO HELP.) The first song, "Crystal Liason" is a spoof of psychedelic music -- but it also seems like a great example of it, to me.

www.youtube.com/watch?v=q2AGqlf8J9g



Some of their hard-shouting music reminds me of the Doors. And some of their strange spoken word stuff seems to channel John Wayne. They even adapt 1800's British poetry to song: the "Dover Beach" wedding poem song is amazing. "Let us be true to one another" while on the "darkling plain ignorant armies clash by night." --Coz one another is all we got. A timeless message.

Heck, they adapt Plato to song! "When the Mode of the Music Changes" is just super:

"When the mode of the music changes /
The walls of the city shake

You can have the men who make the laws /
Give me the music makers"

Their sweet "Mr. Mack" with its "We don't need a Man of Steel" line reminded me of a similar song by the Crash Test Dummies -- but the recent one has less relevance.

YEAH! Art leads, baby! Or, it doesn't. I mean, when it doesn't: this is what we get. When it does we get social change like the 60's saw. Art was a BIG part of all that -- Women's Rights, Civil Rights, Gay Rights, Environmentalism, Anti-War. America hasn't had artists worth beans in decades -- other than half-steps from the alt-rockers and in the indie scenes for music and film. So we get a mini-mall kind of America. And don't forget: it starts with *literature* -- the King Muse. We've suffered there worst of all lately, talk about marginalized niche interests. Whew! I vote for a return to the 60's standard question about any new musician: "Does he have anything to say?" Revelance is the first test!

...Then there's the Fugs "Wet Dream Angel" sung in a 50's teeny-bop style. Oh my! What satire! For adult ears only. ...Of course, it's no more out-there than "Family Guy." Just more straight-forward. Satiric but not ironic.

They cover a huge range. That's why I can tolerate so many hours of just 3 CD's. They're like 10 bands in one.

blog comments powered by

Disqus