Hot Tip: "Daisy May" -- folk'n'country gal as good as Norah Jones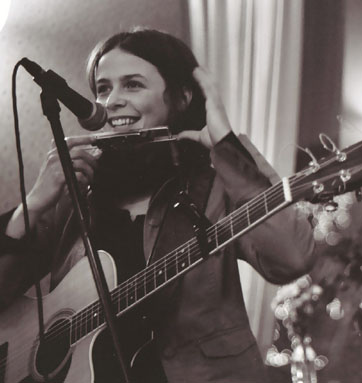 C'mon, someone check out Daisy May Erlewine and let me know what you think. A Norah tune came up after a Daisy song on our random play and Daisy's cut held its own: They have similar vibes and equal talent. So if you find the idea of a little Norah plus a country slide guitar to be even remotely of interest, check out this fresh, STRONG voice. And remember that she hasn't been discovered nationally yet. This is a local gal who I'm saying is equal to the big world guns. Some nerve, eh? Well, am I right? If you don't find the idea interesting but you like talent, well, I can't picture great new music ahead of time, either, so just check it out and enjoy anyway. Then report back!

[PS: I first posted this when Norah was fresh, before she got the 24-7 burnout treatment. So if you don't like Norah, think Madeleine Peyroux perhaps.]

Here's a YouTube video of the first song I heard her sing:



What's more: I see the "Heart Song" CD with this song on it in my Music Section.

****

Here's the report of how I discovered this lovely new music...

So...I went and heard live music last week for the first time in a long time.

I'd never been to this new place, Magdalena's Tea House in downtown Lansing. (http://magdalenasteahouse.com/) The lady warm-up act started playing and singing some talented stuff---sure better than the suburban radio I'm exposed to anywhere else in public around here---so I payed and stayed.

Then the main act came on. A hippy guy in wool hat, stringy beard and long hair. Then a young gal joined him who looked like she was from the farm but engaging. Then a rockabilly guy walked up and sat behind a slide guitar. OK, here we go with "Daisy May"...

They played newstyle roots-folk with a country edge. And when Daisy May started singing "Heart Song", I just about lost it. She's a thin person but has a big voice, and is cheery without trying. Some of her songs had a Michigan feel to them---sneaky, in that Michigan way, but it was in there. One song hit a pitch where she started naming a bunch of plants and trees that I knew were all from Michigan and I about started crying all over again. Not just due to my Michiganitis, but because finally here's SOMEONE WHO PAYS ATTENTION TO THEIR LIFE AND WORKS WITH THAT. I think I *REALLY* needed to get out of the suburbs. I've been going bonkers due to the Stepfordism around here. I started feeling such relief, I tell ya, as Daisy May sang away.

I don't get much feedback from my music stuff here at OYB but I tell ya, this Daisy May is a real find. Don't you want in on a big thing? Have I jerked your chain before? Anyway, Daisy May is easily as good as Norah Jones. She's like Michelle Shocked when she first hit the scene. Daisy is showing us a slide-guitar country kind of folk. C'mon, she's big. Well, this new CD of hers is anyway: "Heart Songs"---that's the one to get. (But then that's what I say about the 5th-year compilation from Bloodshot Records "Down to the Promised Land": my God what music and songwriting! Hot singers, smokin' tunes...actual voices and playing talent. So here's another tip! A hot one!)

Daisy May sang like a zesty angel from heaven, well, from Northern Michigan, anyway, which can be kind of like Kentucky, I guess. People don't realize it: but Michiganders got somethin' goin' on in the music department. I think it's because we're not chicken. And we really can be INDEPENDENT. She belted it out, ran with it (can yodel even). Her own songs are good. She covers the progressive coffeehouse "talky-strummy" beat---but she takes it to the country, which is great in my view, with more rhythm and lonesome instrumentation than I've heard in the coffeehouse sound before. And I didn't hear a shred of us'n'them or man-hatin'. She still has an edge, though, the edge of living her own life and daring to be generous with it.

Here's her website.


Her partner Seth Bernard is also a singersongwriter with CDs. He played various kinds of country guitars. I was out of the loop at first about his hippy-style, being the old crank I am, but he proved to be sharp as a whip, said funny things, called their music "Country Eastern." He's the clever cosmic side of this duo. She's the dusty road. They're a great combo. But his music stands strong in its own right. We need good cosmic music. These 2 musicians are really something: distinct yet merging and both top-notch. I think that Seth does much of the coordinating and motivating behind EarthWork---that's my impression---although MANY people are key to the whole thing. Seth is amazing in his ability to reach out and connect---and it's the subject of a lot of his music.

Here's a YouTube of one of Seth's tunes, "Song of the Burrowing Owl", although the sound is flat:



Mr. Slide played great, too, switching to mando and Telecaster now and then. He's Drew Howard, also known as Captain Midnight. He's some great low-key spice added to this music. In fact, he's why I stayed at that first show. I knew him from rockabilly days in Lansing. When I saw him hippies, in a snappy suit among the flowing hippies, I knew that something extra was going down here.

They also sang a song about greens---it's going in a lingering around before the show, in his snappy suit among the flowing CD that's going with a recipe book. They're multimedia hippy farmer types. People sang along and knew songs. (There's a YouTube of the great "Greens" song but the sound is unsynched from the vid---anyone know how to fix it?)

There were musicians in the crowd who sat in. People were friendly. I said Hi to the band and other folks during the break. I keep forgetting that Lansing is the boom town for the new Country Punk scene started by Bloodshot Records of Chicago, with talent and venues popping up all over. Punk is a misnomer: these are country singers who are "alt" because they can sing and they like GOOD songs, in contrast to both pop music and Nashville.

Daisy May told me she was real tired---but she didn't show it. They'd hosted a folkfest up north the previous weekend that we were also clued in on but didn't go to (rats)---she and Seth are both from and still live up north near where we have our trailer, oddly enough. The boonies. They have the fest and a family camp in the summer. We should go.

I bought one of her CDs to show what happened to me to Martha and Lucy---they're going to be natural fans. I mean, what luck!

A neat thing I learned from her CD and website is that she's hitchhiked a few times across the US (so it still can be done! our country is still OURS!) and even rode freights and has been singing hard everywhere for years already. All cool! And Iggy played in her dad's band. Whoa...

Lucy is getting into strong girl singers these days. I should've brought her but she'd done a sleepover the previous night and was delaminating. There were other kids there, even teens.

I noticed on Daisy May's CD that she gave a prominent thanks to the people at Sheehan House. That made me open my eyes big. I knew she was friends of friends, who had lived at Sheehan, but she must've spent time there, too. And she looked familiar to me. Sheehan is the house in Ann Arbor where I met Martha. Martha helped make that special house come to be by being the first good cook, offering a big dinner every night for whoever showed up. (I was a neighbor who kept coming over.) And it's still happening. Small world. I'm happy to say.

I needed that uplift bad---some reality, some beauty, some heaven.

But that's not all. The cosmos tipped us off again, that we're onto something here. Who knows where it will lead, eh? Some Detroit music friends who recently moved back to Michigan went up to the Hiawatha folkfest in the UP this summer for the first time (we told em). They were visiting today for a yard picnic. We had Daisy May on the house system. The Detroit lady was inside getting some food then came out and said "Who's that playing inside?" I said "A hot new singer who's thrilling us around here, who I heard in town the other day." She said "It's good. She sounds like someone we heard up north." "Daisy May?" "Yeah! She gave me shivvers!" "Yeah, there's something about her." "It's like she's really connecting, authentic, just being herself." "She's coming back to Lansing this weekend." "Well, we'll come back to town!" See---she's catching on. Or, maybe we're all catching on, in this downhome scene. The intermeshing hooking-up continues...

blog comments powered by

Disqus