LA is Fun: Cool Things to Do, DIY Indie-style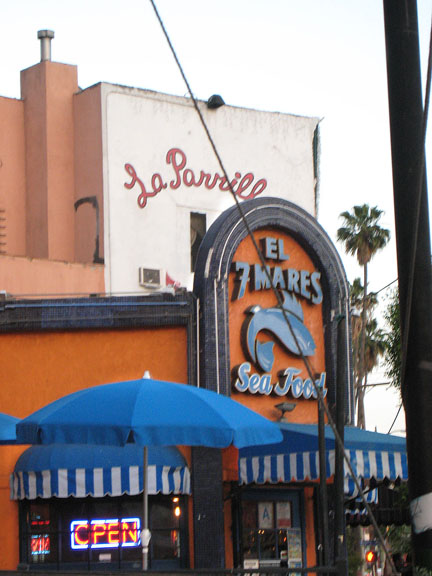 I love LA. Some people say Los Angeles is too big or impersonal. I've never thought so. I have a personable time whenever I visit. The people are awesome, outgoing, civilized, thoughtful, generous, and friendly, I think. They are proud, competent, skilled. They are also cultural creatives. And I mean everyone. Well, mostly I just bump into locals and average joes, plus some arts and bike people. But I include gas station and grocery store people in my range. They might even be from LA, or even stuck there, but they still seem to be there intentionally. And it may not be easy (is it ever?) but they seem hopeful. Yeah, there can be a love-hate as with anywhere. And people do get fed up and leave. But the weather, scenery, and history don't hurt. Maybe there's a superficiality to the niceness but I haven't found it to be like that. The sincerity meter rings true for me, at any rate.

And I never get stuck in traffic. Because I ride a bike. And when I drive I don't do it during rush hours. Do not drive during rush hours! DON'T! I don't drive much, but occasional well-timed car-hops are worth it.

I was just out there for a week helping my elderly aunt lighten her load. She's a tidy person but her garage did make me widen my eyes. She could hardly open the doors of her '87 VW Cabriolet. Well, I worked every day on getting rid of junk and giving away stuff so she didn't have clutter to worry about. After that each day I would head out exploring the city on a borrowed bike. (A friend from Facebook who I'd never met dropped off a bike. Thanks so much, Gloria! The next morning I'd tell my aunt about the adventures I'd had. We had fun. And now her garage is lean, mean and tidy. Nothing left that she doesn't use or like to see.)

Here's a list of my favorite things to do. Yeah, it's biased for location and style but it's a start. I try to keep the items grouped by location. Yeah, I'm Hollywood focused coz that's where I stay.

Also, some of these ideas are pricey but that's relative. Mix'n'match to suit your budget. Most have a thriftier option. Like this: EAT OUT FOR LUNCH. Skip dinner anywhere that might be a bit upscale for your budget. Or eat at the bar. Or get apps only. Also, sometimes it's worth it to toss a few bucks. There's always a way for any lifestyle.

I've posted LA stories before featuring many of these same places, but I couldn't find a compact, modern list. I did find an old list with many places gone. There are a lot of fun LA photos here in OYB that are googleable. I won't repro the pics. I suppose it would be best if I had a pic for each tip-listing. I do have pics in other reports here of many of the places listed.

Some skills are required for best results with my list. Judge for yourself. Yeah, the best biking means hills. And the best results for the locals hangouts require saying Hi to strangers. In LA saying Hi goes a long way. LA seems to be about people. Creativity helps. People come here and stay here in many cases because they like creativity in some way or another.

So, here goes! ...

*Rent a bike. Grab one of those day-bikes. I love biking LA. Explore! Be fit for the hills, though. They dedicate streets to bikes that are set off to the side of busy avenues. Beware door-zones! I don't know the cure other than to take the lane which might have racing Lambo's. I just squeeze the outside of the bikelanes. Explore neighborhoods and canyons.

*Midnight Ridazz -- urban social night rides -- young people -- online.

*Golden Saddle and Orange 20 -- cool bike shops in Silver Lake region.

*Look up urbanoutdoorskills.com and go on urban foraging hikes with Mia and Pascal.

*Hollywood Farmer's Market on Sunday! -- know a city by its market

*Musso's on Hollywood Blvd near Cahuenga -- oldschool restaurant and hangout. Old staff in red blazers. No frickin TV screens!!!!!!! Rated best martini in the USA.

*Blue Palms -- craft beer pub on H'wood Blvd near Vine across from Pantages theater approx. Locals bar. Sours. 24 taps changing fast.

*Stout -- craft beer pub Cahuenga and Selma. Locals. Sours.

*Piano Bar -- shout out to a great one -- but it's gone! Selma and Cahuenga. Construction recently ate it up. Will there be another? No cover live music daily. Emphasis on un-ironic 70's ballads. Locals. With side area for smoking.


*Frolic Room -- too loud and PBR for me, but famous. Hollywd & Vine

*Pantages Theater -- for a show -- classic place but I've never been. The 50-year method is to go to Musso's a few blocks away afterward.

*Yamashiro -- great restaurant hanging above Hollywood on a steep prow of mountain -- views of city and of adjacent dramatic Hills -- interior garden -- historic -- learn the history. 1/2 mile straight uphill from the Grumann/Kodak complex, approx.

*Upright Citizens Brigade -- $5 improv twice a night -- Franklin and Gower approx.

*Miceli's -- rival for oldest restaurant -- tacky singing bar -- piano, singing waitstaff. But cozy, old, friendly. Another one just over hill in Studio City.

*Fred 62 -- 24/7 cafe soda fountain bar -- Vermont in Los Feliz

*Skylight Books -- Vermont in Los Feliz

*Alcove Bistro -- patio, on Hillhurst in Los Feliz

*101 Cafe -- late hours cafe fountain bar in swanky style on Franklin near Vine

*Dresden Room -- the Marty and Elaine Show -- swanky tacky old bar with groovy white seating in restaurant -- Vermont Los Feliz

*Figaro -- French bistro -- Vermont, Los Feliz

*Beachwood Street -- explore up this street from Franklin to a little neighborhood circle of shops. Then explore some side streets twisting way up and around. Don't try to get to the Sign. Locals will glare. Better idea: wend your way west to the Hollywood Reservoir and bike around it.

*Wacko Soap Plant -- crazy stuff shop and gallery -- H'wood & Vermont approx

*El 7 Mares -- fresh fish stand on main street in Silver Lake -- Sunset? -- ceviche (probably most hardcore fish stands will have ceviche. get some)

*Melrose west of Cahuenga for a few miles -- many cool shops for fashion and weird stuff -- worth walking, exploring

*Canters Deli and Kibitz Room -- swanky well-worn deli with bar connected. No cover 24/7 live music, locals. Rough, friendly, diverse.

*Fairfax farmer's market -- daily -- near Melrose and Fairfax

*Pinks Hotdog Stand -- famous, standup, Melrose & Labrea

*Museum of Jurassic Technology -- a freak museum about museums near Venice, awesome roof, wonderful 2 hr experience

*The Front Yard -- a lovely swanky 70s style indoor outdoor bistro in Studio City, w hotel attached

*Oyster House Saloon -- in Studio City -- voted LA's #1 dive, apparently. I see why. Live tunes. Locals. Friendly. Older folks. Owner had 14 places in Hollywood. Oldschool. He'll be there. Poke 'im and awesome stories come out. He's about 80 and still having more fun than you.

*Perch -- rooftop pub downtwn near Pershing Sq

*Ace Hotel -- renovated deco -- rooftop pub downtwn w swimpool for the bar! groundfloor awesome pub, too, shops, highly rated theater

*Cicada Club in the Oviatt Hotel -- renovated deco, LA's first skyscraper; HQ for the vintage fashion scene of the world; Maxwell deMille events; live bigband and 30's-era crooners; top shelf

*Providence -- best restaurant in LA -- order my uncle's namesake, the TenBrink Manhattan (lunch is cheaper than dinner, just saying)

*Free TV Show taping in Studio City -- like Conan OBrien -- cool overall experience

*Velaslacasay Panorama -- friends suggest this cool art exhibit

*Katsuya sushi and cocktails -- friends suggest this Brentwood place; unique Starck architecture

*Griffith Park Observatory -- overlook the city

*crazy roads and trails around there, over and thru Griffith Park, Batman's Cave

*take the cheap ferry to Catalina to experience classic Avalon harbor town way out in the ocean (28 miles offshore); it's like a mini Hawaiian vaca; national underwater preserve great for snorkeling

*tour the Queen Mary in Long Beach, also Howard Hughes Spruce Goose plane

*Disneyland is awesome! Down near Long Beach kind of. The first big amuse-park. It's old, small and slow compared to today's thrill-jive. I still dig it. Specifically, the Peter Pan and Pirates of Caribbean rides. And lunch at the Swiss Family Treehouse. This is oldschool. Maybe anyone can like it. Maybe you gotta be from the 60s.

*wander around LA Harbor -- the biggest port in the world -- see all the ships, big and small, cool tall bridges

*Venice Beach pretty fun

*Beach up past LA toward Malibu is pretty

*LA County Park up Topanga Canyon

*Mulholland Drive for twisty road; turns to dirt on far end; hiking




blog comments powered by

Disqus