Messing About in Boats: Joy of Rowing Explained & More (Dec. '13)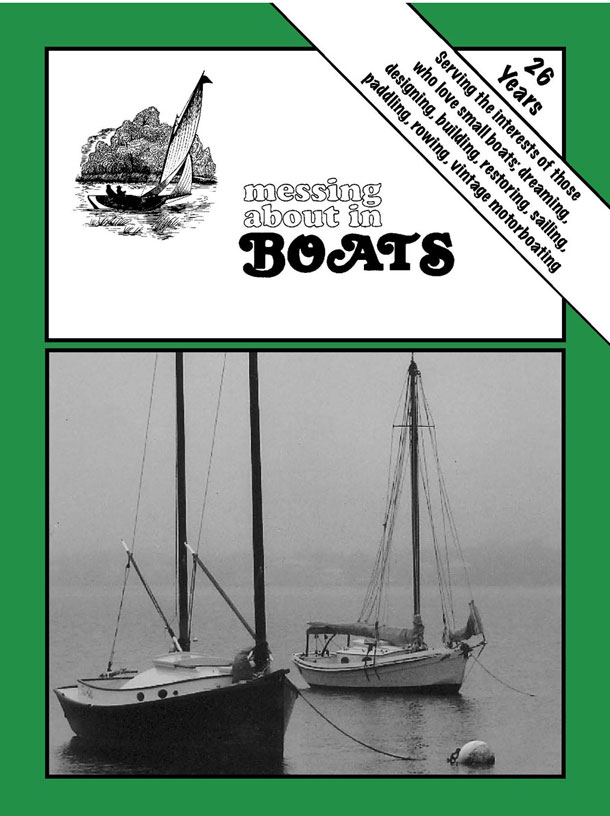 Dec. 2013 issue of "Messing About in Boats" arrived with brilliant article explaining rowing and oar shape, all keying off the goal of joy of motion. A simple presentation of a complex topic. Includes some cool science.

Issue also includes coverage of a couple Midwest tallship festivals -- with differing experiences for the reporter who attended.


And there's a summary report from a lady, one person, who is building ship for the Navy, and the state and a couple other budgetary parties. It's an amazing inside view of such a project and how it can get messed up by politics. Her mission was to execute an efficient and thrifty new way to build workships for the Navy. She -- a non-builder -- started out with a world famous boat designer husband, Phil Bolger, who developed the theory to save a lot of tax money and a lot of fossil fuels (due to a first-ever high-efficiency Navy ship both in design and in construction) and who got the contract and who then died. She volunteered to continue the project and got the go-ahead. She's not a builder but she had a crew and a budget, which then got cut, but she pressed on by herself, desiring to finish and deliver anyway. The powerful are obliviously attempting to squash her. Amazing...

These are just a few of the main articles in this issue.

Best boat magazine ever. Not available on newstands. Editor is a rockstar at 85+ yrs old. Spread the word on this rare resource.

http://messingaboutinboats.com
blog comments powered by

Disqus