Musical Bike Tour Visits Lansing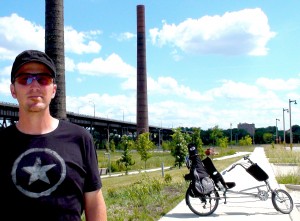 Singer/songwriter Peter Mulvey is playing at Old Town Lansing's cozy Creole Gallery this Friday, Sept. 11, at 8pm.

But he's arriving by bicycle all the way from Milwaukee!

Bikes seem to be going with music more often all the time these days.

From Peter's website:

"From September 9-26, Milwaukee-based, internationally-touring singer-songwriter Peter Mulvey will again take to his bicycle for a concert tour. The third annual bike/concert Long Haul Tour begins September 9 with a ferry ride from Milwaukee to Muskegon, MI, where Peter will take to his recumbent bike rigged with guitar and travel necessities and pedal to Grand Rapids for the tour's kick-off show. From there it's on to three more Michigan shows, then east for shows in New York state and Massachusetts – with daily rides of 40 to 101 miles.


"Fellow songwriter Brianna Lane will also travel the entire tour by bicycle as the opening act. Bolstered on much of the route by a few other cyclist friends, Mulvey and Lane will travel with all their gear, without a support vehicle. "This is going to be a riot," says Mulvey with a grin. "Traveling over land, under our own power – that's elemental stuff. I'm looking forward to seeing what it does to the songs every night."

Here is what his promoter, Small Things Productions, says about him:

"Indie folk-rocker Peter Mulvey is one of the most quick-witted singer songwriters on the music scene today. Audiences can expect insightful lyrics, some laughs and great songs from this Milwaukee-based performer.

"When I was regularly booking concerts at Creole Gallery, Peter's two performances there were so impressive, because he constantly changed things up with a clever mix of Tin Pan Alley jazz, modern acoustic, old country tunes and even spoken word."

Tickets are $12. For more info on where to get them go to: stpconcerts.com/News.html

The promoter further states: "We're encouraging audience members to arrive by foot, bicycle, car pool, hybrid car or some other means of sustainable transportation (horses?). Those who do get $2 off the $12 ticket price."
http://www.petermulvey.com/
blog comments powered by

Disqus