Snowlife is Marvelous: Tracks, Treads and Traction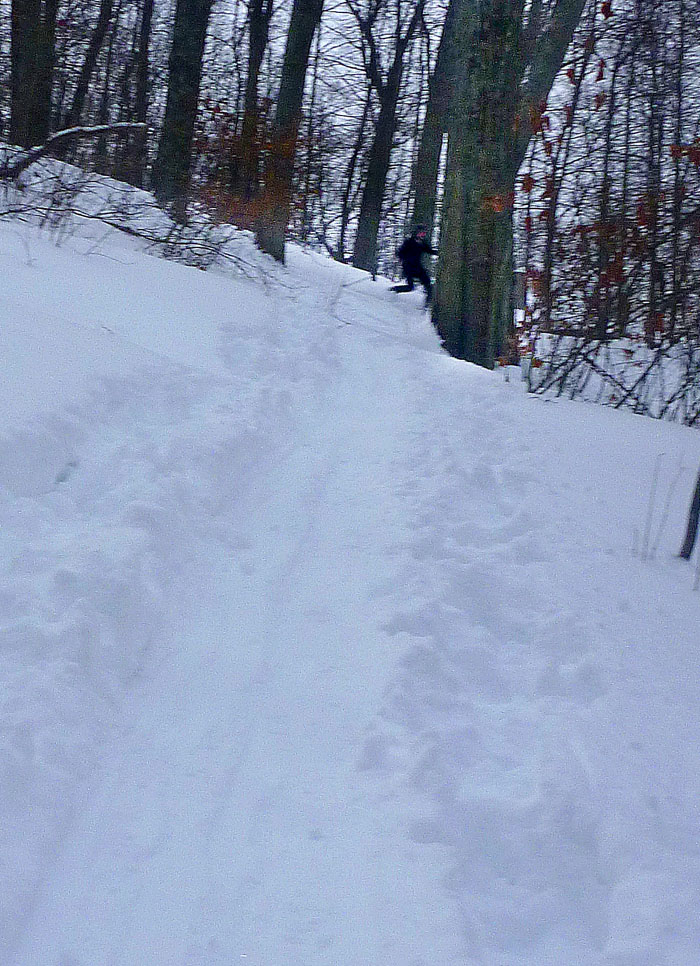 Here are a few things which seem marvelous to me...

*Sharp ice skates with strong ankles driving them along in perfect balance and relaxation.

*Boots creaking on packed powder snow.

*Walking through the snow. ...If you're not post-holing.

*Walking a walking-packed snow path. Nice square tread. About 2 ft wide.

*Snowshoeing.

*Snowshoeing a nicely tromped-in snowshoe path with a nice square tread. ("Tread" means the level of the surface being trod upon.)

*A well skied-in ski trail snaking up and down through terrain, sometimes with tight turns. Where the skiers are always going the same direction through. The step turns all get the same marks. A nice firm stable skiing surface is created. It's a work of art. It takes artfulness to create it. Artful skiing that is. Or, just plain skiing. I think it's cute how, generally, skis will be used in the same pattern each time through a piece of terrain. ...But if skier skill and maybe even size varies enough this might change a bit. Or a lot. If we're talking non-skiers.


*When BC skiing, no tracks are usually best. But the uptrack back up a slope can become a thing of mesmerizing beauty. Enjoy.

*Various trail users all using a nice snow trail surface. Each user leaving his mark but none too deeply to mess anything up for the others. All the different sign. I enjoy marveling at various boot treads. I like seeing the nowax ski patterns left after a nowax ski stops during its brief second to grip. But zero nowax marks might be a little sweeter yet to see.

*Snows all around. ...Driving in a snowstorm. Or in dicey conditions. Packed powder, ideally. But I mean vehicle tires that grip, bite and do what they're supposed to do, transforming what could be a sketchy situation into pure delight. Perhaps this miracle is more common now, with AWD and traction-control, 4WD, etc. But Hakkapelittas ain't bad neither. And a couple years ago in a blizzard the Town Car with snows all around sure was doing better than 90% of other vehicles on the freeway, during a blizzard, in 8" of snow -- with every single one of the other vehicles more modern by far. Like, I could still go 50 while they were 20. It was interesting to come up on the creeping lines of new AWD snails. ...Something about those snows.

blog comments powered by

Disqus