SRAM Generator Hub: Top Value for Endless Power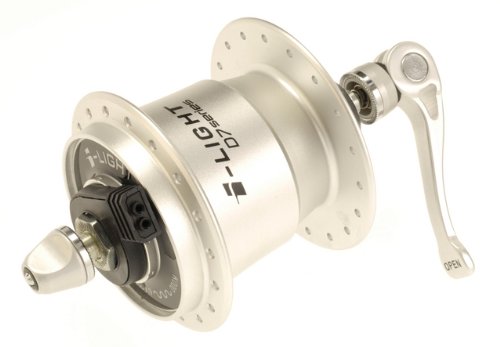 Here's a $70 generator hub that you can built up into a wheel to give 3 watts of power for whatever you want to do on a bike. Most use it for a head- and tail-light assembly.

Click on the pic to buy!

(OYB gets a percent of the payment of anything you order after clicking the pic-link, at no cost to you!)

With a generator light there are no more batteries to buy, or pollute with, or carry.

If you're going to be biking at night a lot and/or for many hours today's generator hubs are the answer.

The SRAM is famous for it's "bang for the buck" factor.


The German SON is rated higher but costs multiple times as much. The Shimano comes in at a similar pricepoint as the SRAM but doesn't seem to deliver as much. Still, I'm sure you can't go wrong. SRAM also makes a 6 Watt hub.

After you get your hub you need lights (get front and rear). Busch & Muller make a variety of lights. The Lumotec is famous. Every year they seem to come out with new, improved lights, but any are fine. Here's one: http://www.amazon.com/Busch-u-Müller-Lumotec-dynamo/dp/B006GKZ9E0/jeffpottersoutyo.

Click on the pic to buy your sweet new hub, or use this link:

http://www.amazon.com/I-Light-Dynamo-Brake-Release-Silver/dp/B002SR5MOM/jeffpottersoutyo

(Remember, OYB gets a percent from whatever you order after using this link or the pic-link.)
http://www.amazon.com/I-Light-Dynamo-Brake-Release-Silver/dp/B002SR5MOM/jeffpottersoutyo
blog comments powered by

Disqus