Team OYB does LA Bike Culture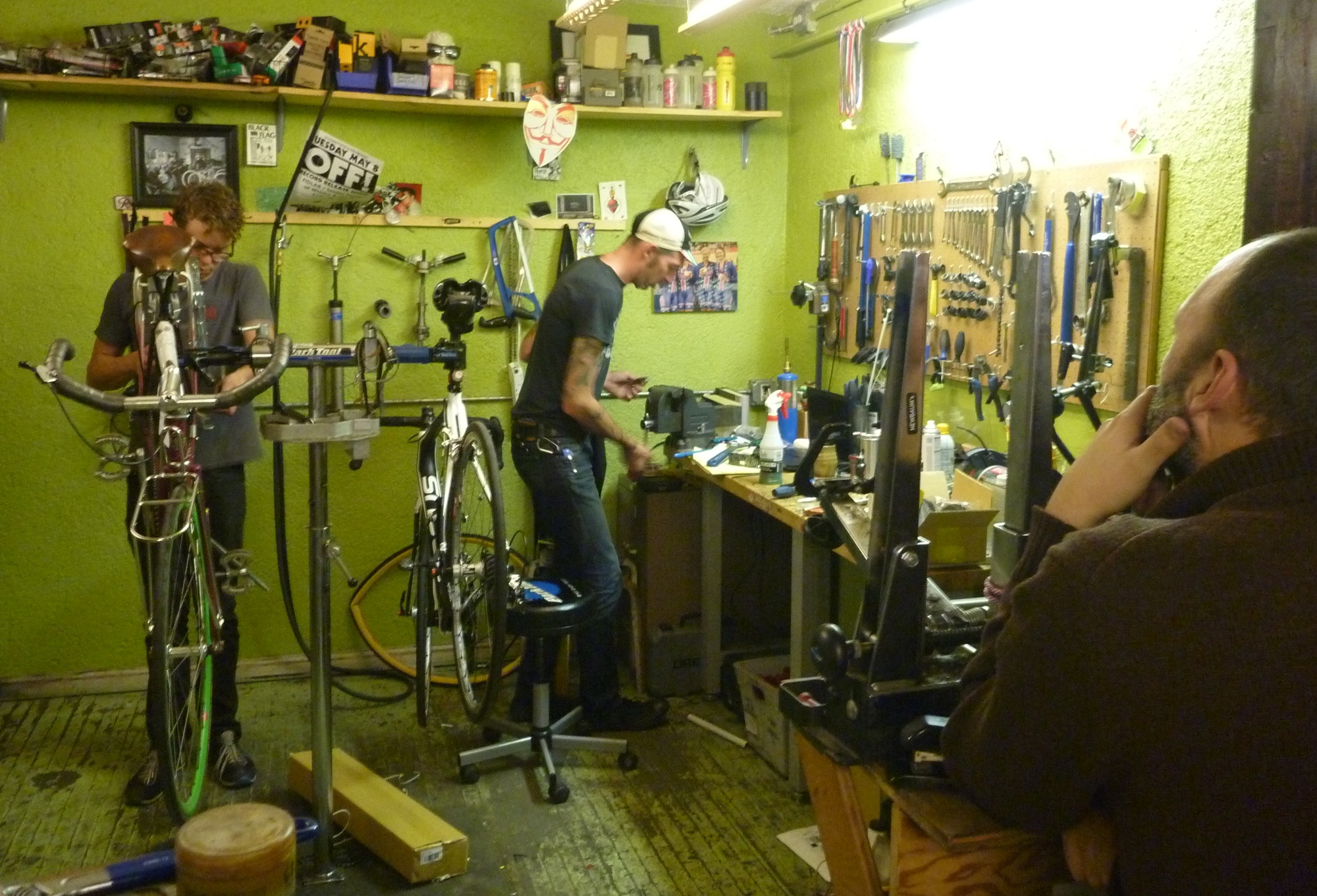 So last week I visited L.A. to help our aunt and uncle with a buncha chores. They're getting on in years but are making the best of it. Their priorities are going out for a nice lunch a couple times a week then going to hear music at the 11am old-folks show at Disney Hall. When I visit I drive and we step it up to daily lunch outings.

It turned out that this time my emphasis was Bike Culture. I got a good dose!

Here are links to my pics:

plus.google.com/photos/104110048140101006653/albums/5821814214033518945

Last year I made a Triangle visit to relatives out there -- including the Bay Area and Sierras on my route -- and posted pics at this next link. I took the pics down when I ran outta memory, but then got a Pro acc't and put em back a couple days ago. My report link has always been up here at OYB, but the pics are pretty good, I think, so I'm mentioning them again.

plus.google.com/photos/104110048140101006653/albums/5821828352684375441

My aunt and uncle live in the Hollywood Hills, and have since before it was cool, no, they moved there back when it WAS cool, it just wasn't ritzy. No, it WAS ritzy, it just wasn't expensive. Bungalows were bungalows.

Their house isn't big but it sprawls down one of the Hollywood Hills, with a room and an apartment below the main house.

A neighbor friend of theirs has my favorite walkway. His house is invisible from any street or view. It's accessed by a tilted, twisty, narrow little walk that's overhung with lush foliage winding over 100 feet to his door. His house also sprawls down the hillside and he has several garden areas accessed by other tiny dirt paths, each with a little sitting area and chair just barely big enough to not fall down the slope.

When visiting, every morning I take a walk around their neighborhood.

Then for our lunch outings we visit a mix of classic oldtime L.A. bistros, like Phillipe's (Home of the French Dip), Musso's, Miceli's and Canter's. These are places they've been going to for over 50 years! (The staffs are starting to recognize me, too! ...Which is kinda nice.) We also toss in a few newer high end places like Providence. BLD is midrange new French fun -- man, I like that charcuterie! It takes so LONG. I like hanging out for a meal rather than dine'n'dash.

After lunches we sit around their house and reminisce about the old days. Back then Uncle Kent and Uncle Tim and their pals and I would sit around their house and listen to jazz music cranked to 11. I used to go out and visit them when I was in my 20's. I had various jobs and work projects out that way and they'd be my home base. After listening to music awhile they'd say Whattaya feel like? and we'd go out to Musso's or Miceli's or the like. After that we'd head over to Burbank for hours of LIVE jazz at the several no-cover clubs there, walking from one to the other. After that we'd sometimes go out for another dinner. ...Old days.

Nowadays, after they go to bed (early) I head out to explore the town.

Anyway, that's the Setting. Here's what I experienced this time out that might be of interest...

This trip I bought a $10 garage sale bike upon arrival in town. It's easy to bike in L.A.! You may well not want to walk, but riding? Yeah! I've always enjoyed it, but now it's even better since the city has installed so many bike lanes and routes. It's easy to google where you want to go then click on the Biker icon and compare drive-time to bike-time. Usually they're only a few minutes different! And certainly during the rush-hours it's quicker on a bike. Basically, I like to bike anywhere under 5 miles away. Farther than that is fine, too, but it's more about the bike then.

After my last evening out I biked back up the Hill and left the bike leaning against a telephone pole with a note on it, "Free bike. Merry Xmas!" I grew fond of that ol' wreck (a Fuji Palisade that was too small, with hi-rise bars). It had a roached left crank arm that I first tried "steel"-epoxying -- no go. I then found a supercool bike shop that had a trash-parts bin where I salvaged an arm and a pedal and was soon fully in proper action.

I also had signed up for the local Freecycle e-lists. On arrival -- before I found my garage sale bike -- I had posted that I needed a cheap bike for a week, to buy or borrow. Two women soon offered me their small bikes! That was wonderful. I woulda taken them up if I hadn't found my bigger bad bike.

One of the gals was a full-on bike-rocker: Cat Campion, a local bike advocate. She told me all about a buncha ways to get biked and about cool bike culture fun happening that weekend in L.A. ...Thanks so much, Cat! I'll just cc the gist of her emails here. They were so rich!

***

If you don't get a better offer, I have a spare road bike... You can also post on the forums on midnightridazz.com
Here's my Ridazz Spotlight: midnightridazz.com/viewStory.php?storyId=7832
So many friendly folks on there will loan you a bike.
Or, you can assemble one cheaply at www.bicyclekitchen.com

Do you know about www.doliquid.com ? You can rent private parties' bikes from $5/day!

***

I'll tell you what I'm up to tomorrow, if you want suggestions for cool stuff to do around town (you found the right gal for that!)

9am www.facebook.com/events/434551699941526; Throw It In The Bag - Jewelry Box Ride I hope all you lovelies can make it out, come get it on with us as we set off the gift giving season with another round of yard sale-ing, vintage shopping, & biking fun!! We will most likely have mimosas.
then I have to hustle to
11am www.echoparkcommunityparade.com (I'll be leading the parade with my fellow cape-wearing cyclists!)
2ish www.bitchcrafttradingpost.com/up-coming-events
7 artcrank.com
In other words, you picked a really good weekend to be a cyclist in LA.
Sunday, I'm going to www.hollywoodfarmersmarket.org and some industry movie screenings.
If you want an all-day thing tomorrow, apparently www.heathervescent.com/santacon is the shit.
This is Fri & Sat: pancakesandbooze.com www.facebook.com/events/473354326017490

***

I have to mention two rockin' bike shops that went over the top in impressing me.

Golden Saddle Cyclery in Silver Lake. What a wonderful neighborhood! This bike shop fits it perfectly. They have a great diversity of bike types on display, all well-chosen. They also have just plain diversity -- I didn't underappreciate the Laguiole knife in the display case nor the well-used handmade cyclocross tires draped over the vintage " '75 Criterium" bike-race themed pinball machine. I *almost* was offered an IPA by the shop rats who were wrenching for a dude. But I did that one better. I asked a guy who seemed shoppy if they had any cyclocross mags so I could fix my jones. He was just a customer but he said he had a few back home and if I would be hanging there for awhile he'd ride back and fetch em for me! ...Wow! And so he did! When he got back the owner noticed that they were *his* CX mags but gladly sold me the ones he'd read already. Ah, bliss.

Then there was the Artcrank party. Whew! Orange 20 is another amazing bike shop; near the LA City College. Along with Artcrank they were hosting a party for an art opening of LA bike art in a gallery next door that the bike shop owner just opened. A local microbrew jumped into the mix with several kegs of free beer -- with purchase of a $5 Artcrank pint glass. Art, bikes, beer: party. About 100 locals and I kicked it up. What fun! They also had the Big Fight on pay-per-view. (Pacquiao-Marquez -- drew a huge roar at the end of Round Six.) It was neat hanging with such a diverse group of young, black, Latino and women bikers. L I had the pleasure of describing sewup tires to a group Latino fixie riders. They had been singing a song about tubulars but didn't know what they were, just knew they were freaky tires. So I explained them and that got them even more excited and they revised their song and kept it going. It was really something!

I met a really powerful looking guy who rides the Encino track and lives for all other forms of biking as well. He told me about riding with a group from LA to the recent Las Vegas Interbike Show. 300 miles nonstop, on dirt, over the mountains and through Death Valley. 2 of them made it. Actually, only he rode the whole way. Most of the dudes were on fixies but he said he knew that was a nonstarter, or nonfinisher -- the dirt mountain descents did 'em in. He said he had a great time at Interbike with his dirty kit and helmet straps tan -- everyone was laying food, swag and drink on him. (Anyone know this guy?) ...He also raved about the Golden Saddle junk parts bin, saying he finds sweet, rare goodies.

L.A. has so many nice hangouts, like any metro area, I suppose. The people were all so friendly. I mean everyone. They also seemed competent and sincere. Is it the weather? I'm thinking it might just be what cities are like. They're about people.

I've often listed my fave hangouts, but here they are again, in case you're in LA and haven't visited these places yet. Of course, my tastes are mine but here we go... In Hollywood: Musso's, Miceli's, Canter's, and the Kibitz Room. Downtown: Phillipe's and the Cicada Club in the Oviatt Bldg. On Los Feliz in a couple blocks: Figaro, Dresden Room (Marty & Elayne's lounge act Tu>Sat), Skylight Books. On Franklin in a couple blocks: Cafe 101, Birds, La Poubelle . That's just a start. But they're my core. Oh, and don't forget to drive Mulholland to the end (and beyond, on the rough dirt, if you can). I've heard that the Magic Castle is many local's fave thing to do, but I haven't visited yet (get a club-member sponsor via the magic shop on Hollywood Blvd).

The Hollywood Farmer's Market is a wonderful thing. I really dug the wild mushroom tent. My fave things to get that I can't get here are fresh figs and persimmons. I suppose I can get persimmons here but they were just coming on there. They call 'em "tree oysters," and, yeah, that's their texture. You're supposed to eat 'em when they're REALLY soft. --Then squeeze lime on 'em. Tasted great to me!

Live jazz clubs are basically extinct now in LA, for some reason. I'd think that the artisanal / local / acoustic / roots / vintage movements would've already sparked a revival. I mean, c'mon! Instead, the part of Hollywood that used to be jazz-rich now has literally a dozen kiddy-packed thumping canned-music nightclubs in a few-block area. Guess it's a matter of cash, but sheesh. Anyway, there's a wonderful jazz combo at the Farmer's Market. And a bluegrass band at the other end that's just as nice. It's a place full of such life gusto that I was almost overwhelmed.

Think more of that can spread to the hinterlands? Will the dominance of franchise turnkey reality ever end here? Won't folks finally get tired of so much nothing? The quietude of a cultural desert is kinda good for getting a lotta work done, and that's cool for an overtime-based cubicle-ized worldview, but it's just gotta get tiresome. It's possible to both work and live in community. ...It's gotta be healthier for everyone.

blog comments powered by

Disqus