The Singersongwriter Bonfire: Afterhours at Hollerfest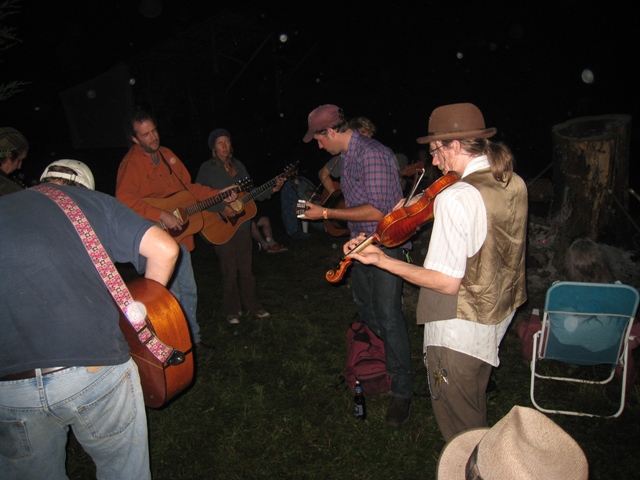 There were two bonfires after the lights went out at Hollerfest. Both had great music spark up around 'em.

At the singersongwriter fire the fire was hardly alive but the music was fine. It was hard to see much, so my vid comes only in basic black. I blinded everyone with a couple flashes, so I merged in the pics to show where we were.


I really liked the old Hank Locklin tune, "Tired of Bummin' Around." I think maybe Dave Boutette was singing that one. I heard someone say Locklin was one of the "four great Hanks." Dang, I'd pay money for that one. (Along with "Blue-Eyed Mermaid" written/played by the ragamuffins around the other bonfire. Actually, there were many musical highlights. The afterhours bonfires just ranked right up there with the official stages.)

Now, these are just 2 snippets. It was about 2am so I wasn't quite thinking of videography, but thankfully I did turn on the gizmo at a couple points. So these aren't whole songs, but they're still nice.

Part two of this vid is a nice portion of Dave or Chris Buhalis or maybe the other Chris (Bathgate) singing "L-O-V-E," of Nat King Cole fame.


http://www.youtube.com/watch?v=M4vj5F9-aFA
blog comments powered by

Disqus