Waxable Skis That Don't Need Wax!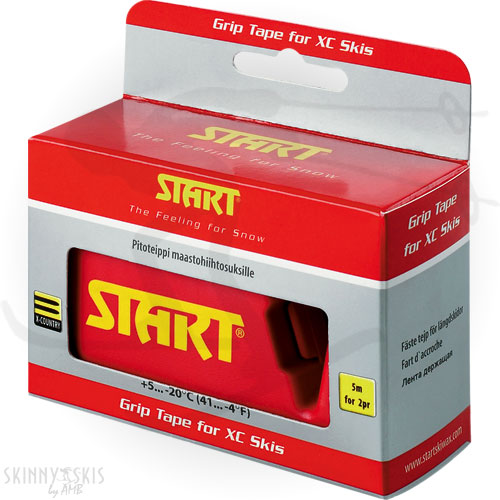 My pal Dick Fultz runs the best/only pro race XC ski shop in Michigan. He offers this semi-new nifty product that I've finally started using...and liking. It's Start Grip Tape. $12. Enough for several sets of skis. You tape it on to the grip zone of your waxable skis and then go skiing for a few months without worrying about changing your wax!

The XC media scene these days doesn't include much, well, of anything, much less product reviewing. But there are hints about Grip Tape out there. Scattered reviews in forums and on club websites. The word is good. I bought some, but I only have ONE pair of everyday allround skis so I hadn't used it. I finally took the leap and applied it. I've been grinnin' ever since.

Here's one report, from my club's site: www.nordicskiracer.com/cgi-bin/news/news_item.asp?NewsID=524

See, I like to dash out onto my yard trails and get in a little ski-romp every day that there's snow on the ground. I'd been finding that I was missing the wax. The snow changes every few hours as the day warms up. So I was fiddling with wax for 10 minutes before being able to have a nice 10-minute ski!

When it's truly slushy out I do have a set of no-waxers. But I greatly prefer the lovely perfectness of waxable skis. Great kick, great glide, no noise: that's wax.


So I applied the tape and have skied a dozen times on it, in temps from 15 to 30 and it works fine. I sense a bit of drag, but the snow has been thin and I'm hitting lots of debris. It's also a bit sticky, like klister, but not bad. Try to avoid leaves.

I started out with a klister-zone amount and added bits til I got good kick. It seems like it's still less than the usual kick-zone.

UPDATE 1/7: I've skied over a lot of brushy debris in a dozen outings and I see that it has just eaten-up the tape. Time to redo most of it. So, really, try to ski on SNOW. (Duh!)

UPDATE 1/9: We're getting a bunch of fresh snow now. I just went and skied and this tape really seemed to drag. I suppose it's like a nowax ski. ...About half as good as a wax ski when it's Extra Blue out! I think we'll get a good spell of good cold snow now so I'm taking off my tape and slapping on WHAT'S MEANT TO BE ON THERE. I think this tape is cool for shaky/mixed/changing conditions---but not for solid mid-winter max-wonderful action!

UPDATE 1/11: I've skied twice now (tracked and untracked) with wax on one ski and tape on the other: and I can't tell them apart. So...I was whining before, but I'd say the tape is darn good all-around.

There's a new competitor product that also offers Glide tape---but both seem to be iron-on. Don't know if it's available in the US yet (looks to be only in Finland): www.skigrip.fi/index_eng.asp

So here's the ordering link for the Start tape. Tell Dick I sent ya!

www.xcskishop.com/catalog/view/?id=320

blog comments powered by

Disqus