William Nealy: Greatest WW Kayak / Mtbike Cartoonist, Educator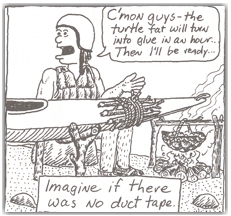 Do you know William Nealy and his cartoons and books? If not, you're in for a real treat.

He's the guy whose artwork and humor brought the free-spirited, underground indie foundations of whitewater kayak culture and mtbike culture out into a much-wider audience than it had before.

He taught in his art and he was hilarious but he also exposed the freedom-loving mentality behind these sports.

Back in the 70's WW kayaking was an insider's sport. (Well, it still is.) There wasn't much info to go by. Nealy created cartoon sketches of the relevant sections of major Southeast USA whitewater rivers so that paddlers could have a much better idea of what they were getting into. He made the first river-maps from the paddler's point of view. They were great, and they were funny. These were soon published as books.

He also cranked out hilarious collections of cartoons such as "The White Water Home Companion", "Whitewater Tales of Terror" ("Don't Get Off the Interstate"), and "Kayaks to Hell."

Then he branched out into the new sport of mt-biking with "The Mountain Bike Way of Knowledge."


He even sent up inline skating and alpine skiing -- while delivering good how-to.

But it's not his how-to so much that makes him special. There's a great Ed Abbey vibe going thru all of Nealy's work. It's beer-drinkin' nature lovin'. There's social commentary, especially in the locals-vs-freaks send-ups. And even when he's joking about cosmic consciousness...he's not. He really is showing a path.

I, for one, really appreciated finding his work when I first started paddling in the early 80's.

It was almost as important to me then as the Moosewood Cookbook! --Which showed me that I could cook and that simple was good. (Is "Moosewood" still liberating kids newly away from home? Hope so! Or has something else taken its place? Does Google really help one find the MINDSET behind simple good times in the kitchen?)

Thankfully, Nealy's work is still available even though he has since gone on to greener pastures himself.

Check out this more detailed report...

www.topkayaker.net/Articles/WhiteWater/Nealy.htm
http://www.topkayaker.net/Articles/WhiteWater/Nealy.htm
blog comments powered by

Disqus