World Steam Expo: Detroit, Memorial Weekend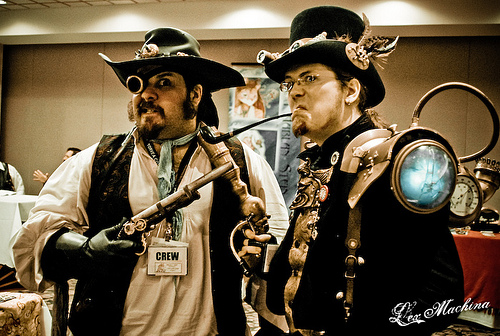 It'll be hugest. The biggest thing the world has never seen. Of a past future that never was. It's a blending of all sorts of things that I think are pretty neat. Tweed, pirates, brass.

So there will be thousands of dress-up folks along these lines down in Detroit come Memorial Day.

What's also supercool is that they'll be including the Henry Ford Museum and Greenfield Village in their play. OH BOY!

It's like historic re-enactment only wilder, more creative, bonkers, fun.


There are no hard and fast rules for Steampunk other than a general idea of Victorians dosing on unhinged technology. It's like if pirates had discovered rayguns, as if iPads had been made of brass Swiss watch-making. It's about tweed, corsets, armor, skulls, gears, swashbuckling, gauges, meters and futuristic technology, all as if they were fabricated in a more romantic past. Does any of this make sense? Fine, it doesn't have to. Heck, in my view just plain Tweed Biking qualifies. An alcohol stove for boiling up tea is enough tech for me. Riding a bike is futuristic romance.

I once saw a gorgeously pale gothic couple at a Civil War re-enactment. (Photo in an older OYB report.) They didn't have any futurism on them other than their fashion sense. It was future-forward Victorian. I think they were stealth Steampunk, but they were obvious to me. (There are quite a few movies relating to the theme. I've posted about it previously here. The upcoming Nazis in the Moon "Iron Sky" movie seems like it would qualify. Whups, maybe that's "dieselpunk.")

Dang, I'm going to love this... (I missed it last year. Not this!)

There are all sorts of events, bands, parties. A *formal ball* even. Oh yeah! (Hmmm, better learn how to dance.)

Everyone who attends should at least be sporting a pair of OYB Vintage Leather Gaiters! : ) ...See my listing elsewhere here.

So what should my regalia be?

http://www.worldsteamexpo.com/
blog comments powered by

Disqus